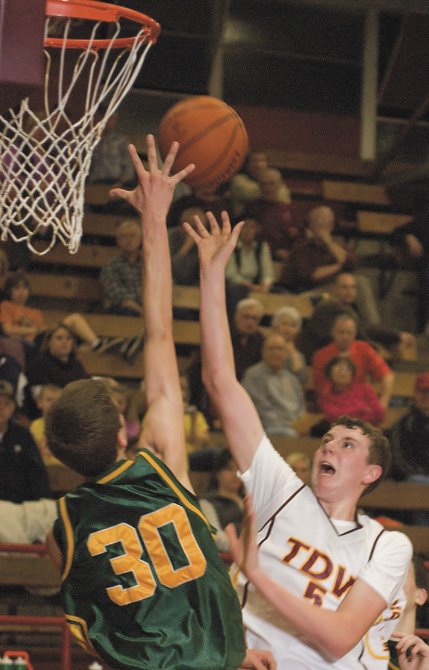 The Dalles — After squandering three fourth quarter leads in consecutive games, The Dalles Wahtonka overcame an early deficit and then built an early cushion and never let up, as they rolled to an easy 55-37 win over Centennial Tuesday in non-league boy's basketball play in Gresham.
"The boys were really excited to get a big road win," said TDW head coach Bob Townsend. "It was a great win for the boys. I was extremely proud of their effort and composure down the stretch."
The Gophers struck first blood in the opening frame with an 11-9 advantage, but TDW battled back with its biggest offensive output of the game for a 16-9 spurt to go out in front, 25-20 at halftime.
The Tribe rally continued in the third quarter with a 14-6 run doing the trick to put them ahead 39-26 after 24 minutes of play.
"After the first quarter, we played great defense, forcing them into contested shots," Townsend said. "We handled their trap and pressure very well, which was nice to see."
In the final frame, TDW kept the momentum going with a 16-11 spurt to seal their first non-tournament road win of the season.
Steven Bartells led the way with 18 points, and Grayson Byers penciled in 15 points for his effort.
Connor Mathisen added eight points, Austin Wilson poured in six and both Zach Nerdin and Hunter Malcolm punched in four points apiece.
After spending the last six games on the road, TDW (5-8 overall) finally gets some home cooking with a matchup against Reynolds (6-6) at 7 p.m. Thursday for the last non-league contest before Columbia River Conference play starts Jan. 15 in Hermiston.
"We are extremely excited to be back at home on Thursday to play in the Pit," Townsend said.