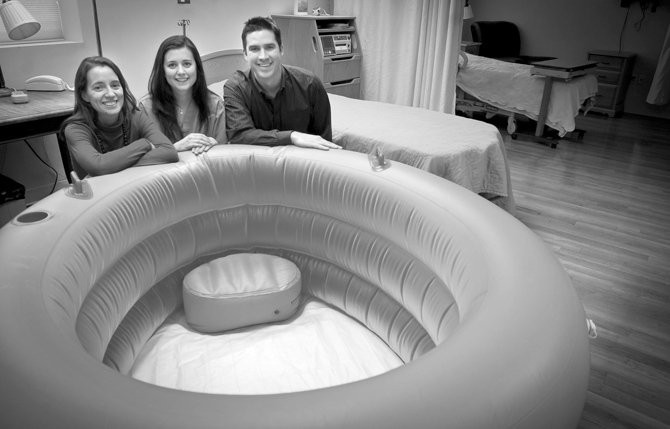 The Dalles — As anyone who enjoys a warm bath knows, warm water has the power to relax and to ease pain.
That's the idea behind the new water births offered through Columbia River Women's Clinic and First Impressions at Mid-Columbia Medical Center.
"Water births are done all over the world," said Mandi Morgan, certified nurse midwife. "Most large hospitals do them. But we are the only one in the gorge.
"We are just embracing a natural process of birth and allowing women to have another choice."
It means women now have the opportunity to experience natural childbirth (without pain medication), while enjoying the pain-relieving effects of water.
Why are they beneficial?
"One, they are low-intervention and allow women to move about freely in the water and choose their own position," Morgan said. "Two, the water helps relax the muscles and it is shown to speed up the labor process. It helps the brain release its own oxytocin, which increases contractions."
Relaxation can play a key role in the process, Morgan said.
"Whenever we are more relaxed, our perception of pain is less."
The hydrostatic pressure and buoyancy of the water can add to the comfort factor by allowing the mother more latitude to find the most comfortable birthing position.
Births take place in a 190-gallon inflatable birthing tub at First Impressions. The deep tub submerges the mother to her chest. The infant goes from the warm, liquid surroundings of the womb to the warm, liquid surroundings of the tub, then is guided up to the mother's chest, either by the mother or with help from her labor coach. Exposure to air then stimulates a breathing response.
"Your partner can get in the tub as well," Morgan said.
The process is overseen by a health care provider, either Morgan or one of her partners, Dr. Analene Pentopoulos or Dr. Brian MacArthur.
"They are there to guide and support the delivery, if needed," Morgan said, "but in most cases the mothers will deliver the babies themselves."
During a water labor and birth, the mother may not always be in the water the entire time.
"She may get out every hour or hour and a half to use the bathroom, walk around or use other methods of comfort," Morgan explained. "Then, when she feels ready, she can get back in the water."
Cora Sawyer had a water birth for her son, Ethan. In a recent issue of Well Aware, she said water birth was gentler on her body throughout labor, delivery and recovery.
"Giving birth in the water seemed natural, peaceful, calming and simple," she said. "With water birth, needing pain relief didn't even cross my mind."
She said the water birth gave her a greater sense of control over the birthing process.
Candidates for water birth are moms who have experienced a normal, healthy pregnancy without complications. Their babies need to have a normal heart rate and no signs of distress.
A few reasons that may exclude water birth include more than one baby (twins), breech births, suspected prematurity, presence of infection, heart disease or insulin-dependent diabetes in the mother, excessive or the desire for epidural pain medication.
Providers like Morgan say being present during a water birth, where a baby is delivered in a natural and more comforting way, is always an honor.
"A bunch of us nurses said we wish we weren't done having children," Morgan said.
However, even if a woman is medically eligible for water birth, it's not for everyone. Some people may prefer having pain medication, or may have other reasons for not wanting a water birth. Even those who start the water birth process may choose to discontinue and switch to another method of birth.
"What I always tell people is this is a journey," Morgan said. "You don't know what's going to happen and you don't have any control. So you make a plan and you change the plan according to what happens.
"You can change directions depending on what the body desires."
From a financial perspective, water birth is no different from other vaginal births, noted Laurie Miller, manager of Columbia River Women's Clinic.
"It's the same whether you deliver in a pool or in a bed," she said. In fact, insurance companies don't even get a report of which method is used.
For more information, contact Columbia River Women's Clinic at 541-296-5657.