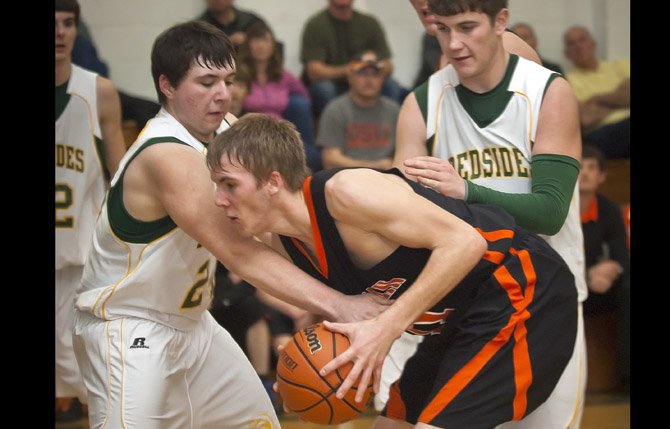 Maupin — No. 5 South Wasco County built a 15-point lead midway through the third quarter, but Sherman rebounded with a 37-25 run in the final quarter and a half, and a last-second, 3-point bank shot by
Jailin Conboy bounced off the rim and out in the Redsides' 71-68 victory Saturday in Big Sky boy's hoops play in Maupin.
Photo Gallery
Sourth Wasco versus Sherman boys basketball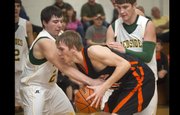 Huskies rally from early deficit, as last-second 3-pointer misses mark in 71-68 loss
Twice in the finale, Sherman got as close as four points, as each team fired their best shots when it mattered most.
Conboy hit a 3-pointer with 3:25 left to move Sherman to within 63-60, and after a SWC timeout, Chris Grace added a layup, Sherman's Austin Kaseberg hit a short shot and Redside senior Wyatt Creel swished two free throws to run the SWC lead up to 67-62 with 1:54 left.
At the 1:36 mark of the fourth, after both teams missed on possessions, but Conboy rattled home a long ball to get the Huskies to within 67-65.
Sherman had a game-tying layup blocked by Creel and the Redsides then missed a layup on their following time up the floor to keep the score close.
With 48 seconds left, two missed free throws by SWC left the door open, but Creel hustled for the offensive rebound to give the Redsides possession.
Ocacio then hit two free throws with 32 seconds left, but then Conboy answered right back with another clutch 3-pointer with 18 seconds remaining to move Sherman to a 69-68 deficit.
After moving the ball around to cut down some time, Ocacio was finally fouled with six seconds left in regulation. The junior sank both pressure shots to give his team a three-point cushion at 71-68.
With one second left, Sherman's Ben Holliday inbounded the ball to Conboy, who heaved his shot from half court.
The ball kissed off the glass, bounced off the front end of the rim and out, as time expired.
"This win shows a lot. It shows how good we can actually be," said Ocacio, who also had five steals.
"We are a lot better than some teams think we are. All we have to do is keep working while working everybody into the game and I think we will be alright."
Up 32-27 at the break, South Wasco County stormed out of the locker room on a 14-4 run in the first three minutes and 44 seconds to swell the advantage to 46-31 with 4:16 left in the frame.
The biggest reason for the momentum change was the Redside defense, which used five steals that led to five layups, four of those hoops coming on athletic plays by Ocacio and the other coming on a conversion by Colton Nannini.
"We had a real bad lapse there in the third quarter that put the nail in our coffin," said Sherman coach Mike Somnis.
"It is hard to dig back from 15 or 16 points down like that. We lost our head and we were doing our own thing out there instead of sticking with the game plan. You take away that and you never know what can happen."
After a timeout, Sherman then came back on a 15-2 in a span of 3:40.
Riley Brown hit a 3-pointer, Brian Simantel added five straight points, and Kaseberg added a 3-point basket to make the score 46-42 with 2:38 left in the third.
SWC's Travis Hayes stopped the Huskies' 11-0 rally with a layup, but then Kaseberg and Simantel added consecutive baskets to creep the Huskies to within 48-46 with 36 ticks on the watch.
Ocacio capped the third quarter with four straight free throws to put the Redsides in front, 52-46 entering the fourth.
Both teams battled it out to a 13-all tie after one quarter, and South Wasco County used a 19-14 spurt in the second frame to lead 32-27 at the break.
It was a narrow escape for the Redsides, who extended their winning streak to nine games.
Ocacio scored 24 of his game-high 37 points in the second half, using 11 field goals and a perfect 14 for 14 from the free throw line.
Creel added 19 points, 13 rebounds, seven steals and three assists, and Nathan Duling hit on five points. In all, SWC had six players hit field goals, as the trio of Nannini, Grace and Hayes combined for 10 points.
One area, head coach Jim Hull pointed to was the free throw line, where his squad shot 18 for 27 for the game and 9 of 13 in the fourth quarter, including six straight down the stretch.
"It went back-and-forth-and-back-and-forth again," Hull said. "We made a big run, then they made a big run, but one thing we talk about at practice is free throw shooting. It cannot be overlooked. We made the shots in the fourth quarter that were the difference in this game."
The Huskies had three players notch double digits, as Conboy led the charge with 26 points, 13 coming in the fourth frame.
Kaseberg added 22 points, Simantel checked in with 13 and Brown tallied five points, for the Huskies who hit 22 field goals, eight from long distance.
"Give credit first to Mike and Sherman," said Hull. "You can tell they are football playoff team and you can tell that he is doing a great job with them. That was probably the most physical game we have had all year. When we play in games like this, it can only help us in dealing with adversity, momentum swings and everything else that can happen in a close game."
SWC (13-2 overall, 6-0) plays host to No. 2 Horizon Christian at 7:30 p.m. tonight.
Sherman (10-6, 4-2) hits the floor against Nixyaawii for a road matchup at 7:30 p.m. Friday.
Dufur boys demolish Central
The Dufur Rangers got their first win of the New Year with a dominant 60-10 win over last-place Central Christian on the road Saturday at Redmond Proficiency Academy.
Dufur sent its message early on with a 19-0 run in the first quarter with Cole Parke doing his damage with nine of his 13 points.
Nick Little took control in the second frame with eight of team-high 15 points to lead the Rangers on a 20-3 rally to go out in front, 39-3 at the half.
The Rangers finished the game with runs of 10-4 and 11-3 to complete the 50-point win.
Bradley Newman added eight points, Trever Tibbets added seven and Caleb Morris hit a two and a three for his five points.
All told, Dufur has 26 field goals, seven from long range, and 4 of 6 free throws.
Dufur (4-9 overall, 2-3 league) has the rest of the week off until a 7:30 p.m. Friday road date against South Wasco County.