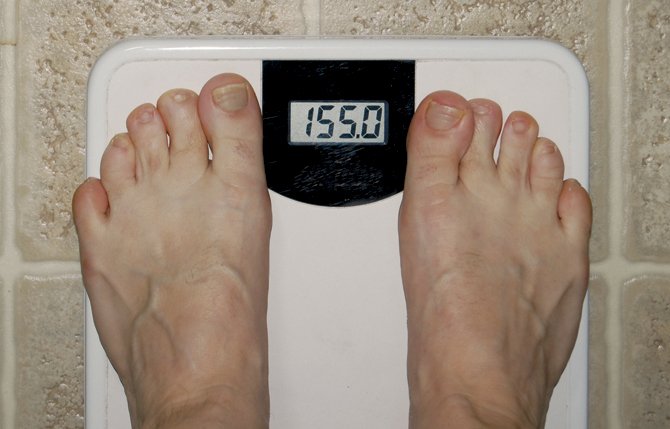 Document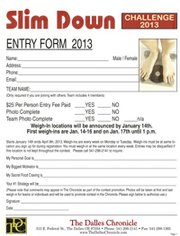 The Chronicle's Slim Down Challenge 2013 is here, and entrants have until Thursday at 1 p.m. to register, either as individuals or with a team.
The cost is $25 per person, with entrance fees, minus administrative costs, going to the cash prizes that will be awarded to the overall winner, the top male and female runners up, and the top team. Teams must have four members.
Registration is at The Dalles Chronicle, 315 Federal St. Entry forms are available at the Chronicle at
www.thedalles
chronicle.com. Registration will be accepted through 1 p.m. Thursday. The final weigh-ins are 13 weeks later, on April 8 and 9.
Weekly weigh-ins will take place at Urness Motors, The Dalles Fitness and Court Club and Maupin Market.
The weight loss will be measured as a percentage of body weight lost, not by pounds lost. Contestants can miss up to four of the 13 weigh-ins. However, they cannot miss the first or last weigh-ins.
Last year's overall winner, Marcia Lewis, is back again this year. She gained a bit of weight, but said she is still "significantly" down from the same time last year.
The top loser among men, Bob Krein, is also back this year, and is on the same team as Lewis. He also added back some weight, but is focused on long-term weight loss and is already closer to his goal this time around.
"This should be a lifestyle change and not a crash diet," said Chelsea Marr, general manager of the Chronicle. "You're trying to make a healthier you for a lifetime, and not for three months."
The contest rules encourage entrants to consult with their physicvian or health care provider before starting any new exercise, nutrition or supplementation program, particularly if you suffer from any medical condition or regularly use prescription of over-the-counter medications.
For those who wish to have an extra incentive to keep on track, the Slim Down Challenge offers an extra "penalties" option. Penalty one is being charged two cans of non-perishable food if you miss a weigh-in. The second penalty is being charged a can of non-perishable food for each pound gained from one weigh-in to the next. This fine is due at the next weigh-in and is based on the honor system. The fines will benefit The Dalles Food Bank.
Contestants are asked to list their goals and motivations, and they include fitting into pre-pregnancy clothes, a trip to Florida, and being motivated by their children. Secret food cravings include evening sweets, pasta, and "any Mexican food."
Strategies for weight loss include "only allowing indulgences on days I have exercised," "no snacking on junk" and "taking each day one day at a time" and to "snack less and walk more."
Another said her strategy was "to remember this is a life challenge, not a diet."
Teams enrolled so far include the Sassy Sista's, The Believers, and last year's team winner, the Maupin Minnows.