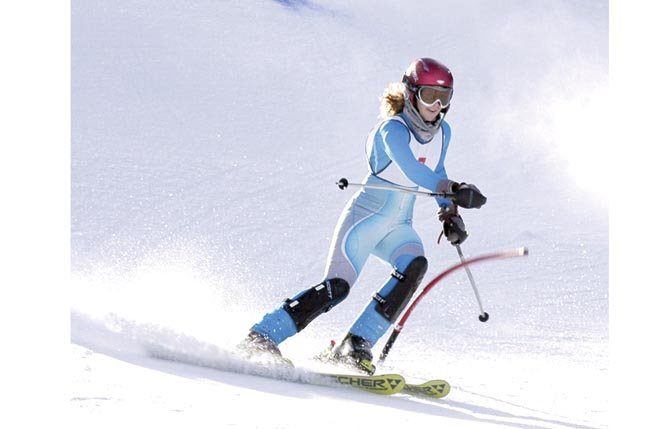 Through two slalom events this season, The Dalles Wahtonka ski team appears to be riding a new surge against the rest of the Mount Hood Ski League.
In those two races, the Eagle Indian boys have a first and a second place to their credit, while the girls have posted a second and a third.
With the boys taking charge last week, with the help of standout Eli Holeman, who secured first place at Ski Bowl at one minute and 21.24 seconds, this group is continuing the positive trend set by graduated senior Brent Dugick.
Head coach Jeff Cordell sees a lot of potential in his ace skier so far.
"Eli still has a lot of room for improvement and I expect to see a win (or more) from him this season," Cordell said. "He is one of the best skiers our team has had since the late 90s."
Along with Holeman, the Tribe team is comprised of Travis Diede, Mark Johnson, Kale Underhill and foreign exchange student Bence Boros.
Underhill is coming off a breakout campaign where he had some good runs and performances throughout.
At last season's state tournament at Mount Hood Meadows, Underhill ended up 49th out of 112 skiers. Underhill picked up a time of 2:44.69 in the GS and he turned in a 1:51.13 in slalom.
Diede has finished in the top-10 in both of his races and is coming off an eighth-place rally and a personal best on Jan. 12 at Meadows where he stopped the watch in 1:16.02.
After that race, coach Cordell expressed his appreciation for one of his top gunners.
"Travis Diede had a ripping pair of runs and surprised us all with an 8th place finish," said the TDW coach. "Travis is really skiing well and has made a lot of positive changes in his technique."
Johnson has been a skier that has made the jump as one of TDW's rising athletes on the slopes and along with Holeman and Diede has shown consistency in his two slalom events this year.
He is coming off a personal best run at Ski Bowl last week, where he turned in a time of 1:29.93 for seventh place, just 8.69 seconds behind Holeman, who was first.
"I think we are going to see some really good results from Mark in the next few races," Cordell said. "Mark is improving every practice and is working hard off the snow as well to improve his strength and quickness."
The girl's team has three returners back in action in the likes of Carsen Cordell, Maya Barnard-Davidson and Bailey Cordell to go with a trio of newcomers in Emma Ell-Smith, Alyssa Carrico and Zoe Ley.
Last season, Barnard-Davidson ended up 52nd place at the state tournament with her time of 4:48.28.
She had her best marks in GS, 32nd, at 2:10.67, but she struggled a bit in slalom with a 2:37.61.
The TDW senior also competed in the freestyle portion of the OISRA state tournament, as she earned a third-place ribbon for her efforts.
Barnard-Davidson notched fifth in her slopestyle run and she just missed out on a state title, but grabbed a tie for second in the halfpipe portion.
That momentum off 2012 has spurred her forward to bigger accomplishments with a third and a fourth in two events.
On Jan. 12 at Meadows, Barnard-Davidson chalked up third with a reading of 1:10.80, and she hustled out a fourth last week at Ski Bowl with her time of 1:29.49.
Bailey Cordell has been in the hunt in both of her runs this season, and she is coming off a personal best at Ski Bowl where she slugged out a mark of 1:41.96 to place 10th, the first of her career.
At state last year, Carsen Cordell had a GS time of 2:28.28 and she finished the slalom event in 2:14.75 for a 4:43.03, which put her 47th out of 101 skiers.
With a pair of top-20 finishes under her belt, the junior has come out strong, so far, looking to jump up in the ranks.
Her first event netted 20th place, but she strapped in her boots last week at 16th place, as she crossed the wire in 1:50.94.
Those three have been doing much of the heavy lifting and the coach is hopeful that with extra practice time and strong runs, this girl's team can maximize its potential.

"This is a great way to start off the season," coach Cordell said. "I was a little surprised at how well we did. Our skiers really stepped up and skied very well. We had some very good individual results."
Ell-Smith, Carrico and Ley are coming along steadily as relatively new skiers in the field.
The roster has some experience and some athletes who will carry the torch for this program.
"I think we have some real good skiers here that can do well," said Underhill in an earlier interview. "Both teams need to keep on working hard so we can accomplish our goals."
TDW hits the slopes again at 9 a.m. Saturday, Feb. 2 on the Stadium course in a GS race at Mount Hood Meadows.