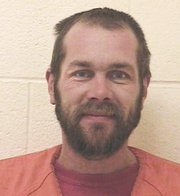 The Dalles — Brian DePriest made his first appearance in Wasco County Circuit Court since being charged Jan. 23 for kidnapping a 5-year-old boy from the mother's home in The Dalles.
DePriest, 30, will be represented in the case by attorney Rob Raschio of Morris Olson Smith Starns Raschio and Sullivan, a gorge law firm. The charges filed against the defendant by Wasco County District Attorney Eric Nisley include three counts of first-degree assault, first-degree burglary, second-degree kidnapping, menacing, contempt of court and vehicle theft.
DePriest was arraigned on these charges by Judge Janet Stauffer at 1 p.m. Jan. 24 through a video feed from the Northern Oregon Regional Correctional Facilities.
He is being held in the regional jail on an $89,000 cash bail and the charges filed by Nisley have been presented to a grand jury for a determination about whether prosecution should proceed.
DePriest's next court appearance, a probable arraignment following a grand jury indictment, will be 1 p.m. Monday, Jan. 28. He has been accused by Nisley of entering a home in the 2000 block of West Ninth Street shortly before 6 a.m. Wednesday and attacking the mother and father of the child with a hammer. He then reportedly grabbed the boy and took off in a nearby neighbor's car that had been left unoccupied and idling to defrost the windows.
DePriest then allegedly drove to a relative's home in Dufur and that individual reported his whereabouts to authorities. He was arrested without incident and the boy returned to his parents, who had been treated at Mid-Columbia Medical Center for serious injuries.
The mother, who has been unable to be reached for comment, had taken out a restraining order in September 2012 to keep DePriest away from her family. He was her ex-boyfriend and had tried in May 2012 to take the boy — he is not the biological father — during an argument. He had returned to the woman's house four months later and threatened to kill her, the children and her new boyfriend after holding her hostage for several hours.
In July 2008, another woman from The Dalles, now 31, obtained a restraining order against DePriest, whom she had once dated, for some of the same behavior. She told court officials that he pushed past her children in the yard and stormed into her house in the 2500 block of East 12th Street to demand a conversation. He then reportedly starting yelling at her about money and acted like he was going to hit her.
After he allegedly grabbed the woman's boyfriend by the front of the shirt and threatened to "smash his face in" the man left the room to get a gun and DePriest reportedly fled from the premises.
"I believe he is on drugs. He is very unpredictable," wrote the woman in court documents.
DePriest was convicted in 2004 and 2008 for drug-related offenses involving methamphetamine. He was allowed to fulfill court-ordered directives, such as enroll in a treatment program, in lieu of going to jail in both cases. In 2009, he was arrested in Wasco County for a probation violation tied to the 2008 case, and a warrant out of Klickitat County.