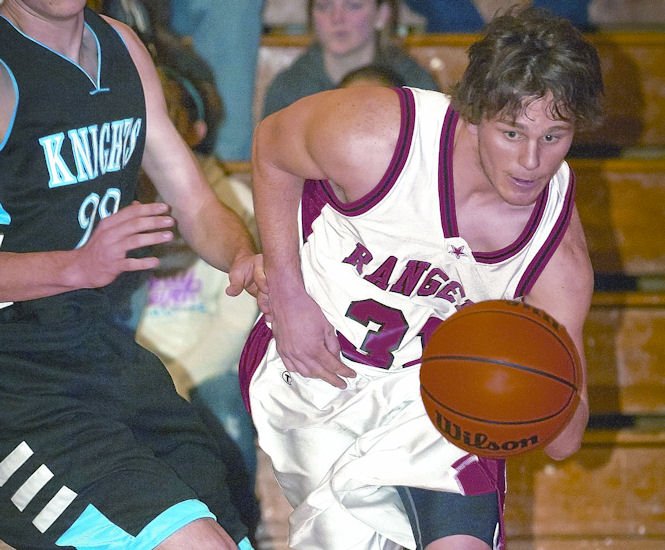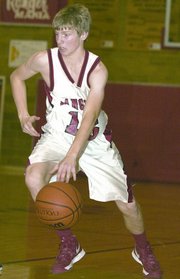 For the past two seasons, the overall emphasis during practice and games for the Dufur Rangers is to improve steadily on the fundamentals of basketball.
While going 10-30 in the last year and change, head coach Jack Henderson feels the potential is there for his young group of eight sophomores, two juniors and a senior.
Since making a return to sideline after a few years off, Henderson relishes the role of developing talent for the future.
"I love to coach and I love teaching moments with teams and players," he said. "I think this group has a ton of upside. I think we will see huge improvements this year. What has made it fun is this group comes to work every day with their lunch pail and they really get after it in practice."
The Rangers have some standouts at every phase of the game, whether it is a stout defensive group, athleticism on the wings to run other teams ragged or some size down low to dominate the paint.
Five players stand as tall as 6-feet in height, with Jake Kortge, Bryson Caldwell and Kolby Bravos as the main players in front of key reserves Austin Olson and Jon Buntin. Trever Tibbets (5-10) has also seen some minutes down low for the Rangers.
It is a solid core for Henderson to build around.
"I think both Bryson and Jake can shoot the ball well from the outside and inside as well," the Ranger coach said. "Kolby Bravos is a sophomore and so is Trever Tibbets, so all of those kids can contribute down low obviously for the rest of this season and a couple of years as well. So there is some good stuff there."
Kortge, a 6-1 center, said basketball is his favorite sport and he is finding new ways to improve his game and broaden his repertoire.
He agrees that the first two years of his high school career have been a bit of a struggle, but he has noticed some big changes in the locker room overall that give him hope there could be a larger uprising during his upperclassmen seasons.
"Last year was tough on all of us because a lot of us like basketball and we have high expectations of ourselves," Kortge said. "It is going to be fun to come together, play as a team and win basketball games and do good things. That is going to be our goal. When we get to do good things on the court, it is going to keep getting better and better for us."
With seven games still to play, Dufur has matched its 2011-2012 win total of five, so there are reasons for optimism.
Offensively and defensively, the Rangers have improved considerably.
Dufur's offense is scoring more than five points more a contest, up from 44.5 to 49.9 this year.
In looking deeper at that scoring surge, Henderson points to the contributions of junior point guard Cole Parke and 5-11 shooting guard Caleb Morris.
"Caleb is a great spot up shooter and he can go to the basket off the dribble. He is probably one of our best kids in knowing the fundamentals of the game," Henderson said. "He spends a lot of time playing basketball in the off-season and fundamentally, he is really sound right now. Cole, obviously has the Energizer Bunny battery at running the show. He is quick outside and is a tough defender. He can shoot the ball as well. That is a good thing for us."
Defensively, Dufur is allowing 54.6 points a clip compared to 60.9 from last season.
With the help of the post players and both Parke and Morris, those numbers have remained steady through the season.
Added to the mix are Jake Little, Bradley Newman and Nick Little, who are a top trio that can contribute in several ways, especially in the area of pressure defense, which could lead to easy offense.
Henderson said Little is really improving on both ends of the court.
He has become a slasher on offense and defensively, he is a lockdown defender who can go up against an opponent's best athlete.
Morris likes that there are 11 interchangeable parts on this squad.
"We have so many different guys with different skills," he said. "We have people who can shoot and some people who can run the floor and some people who can play tough defense. It is a good variety to have and now we have to bring it all together to get more wins."
Kortge is optimistic things will change for the better in the next few seasons.
Several teams will reload their rosters due to graduation, but Dufur has eight players with at least two additional seasons to hone their skills on the hardwood. Losing is never fun, but there are learning lessons to take out of the experience.
Morris feels it will help the team form a closer bond.
"It is always good to go through some low times as a team," he said. "It will help you get to the good times. I hope that we can have some good times in the next couple of years. I think we can do it. It is realistic that we can go to districts and state in the next few years, it depends on how well we play. We are in one of the toughest leagues in the state, so we are going to have to show up every night, play good defense and be aggressive."
Dufur hosts Sherman at 7:30 p.m. tonight.