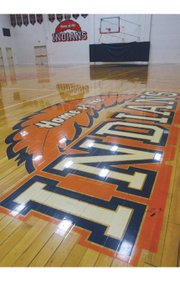 ROSEBURG (AP) — The Roseburg School Board has suspended its legal challenge to the state ban on Native American mascots after learning it was unlikely to win.
The Oregon Board of Education approved the ban last May after months of passionate and emotional debate about tolerance and tradition. It requires Oregon teams such as the Roseburg Indians to come up with a new mascot by July 2017, or risk losing state funding.
Roseburg School Board Chairman Steve Patterson said board members were recently informed the district would likely lose a court battle, and that the state Board of Education does have the authority to withhold money if schools don't switch their nicknames, mascots and logos.
The district has not ruled out re-starting its legal challenge, but will wait to see if the Legislature takes any action on the matter.
"It's much too early to say we're going to abandon our disagreement with the state on the ban," Patterson told the News-Review. "We're going to wait and see what the Legislature does."
State Sen. Jeff Kruse, R-Roseburg, has drafted a bill that says the Board of Education doesn't have jurisdiction over state mascots. And Rep. Sherrie Springer, R-Scio, drafted a bill waiving the ban for districts that have gained mascot approval from nearby tribes.
Since the 1970s, more than 600 high school and college teams across the country have done away with their Native American nicknames, including 20 in Oregon.
Opponents say Indian mascots are racist, reinforce stereotypes and promote bullying of Native students. Supporters say the mascots are a way to honor Native American history, evoking values of strength and bravery.
The ban requires eight Oregon high schools to retire their Native American mascots. Another seven high schools identified as the Warriors will be allowed to keep their nickname but must change mascots or graphics that depict Native Americans.
The five-year transition period is intended to help districts pay for changes and give them time to pick a popular new nickname.
---
Information from: The News-Review, http://www.nrtoday.com
Copyright 2013 The Associated Press.