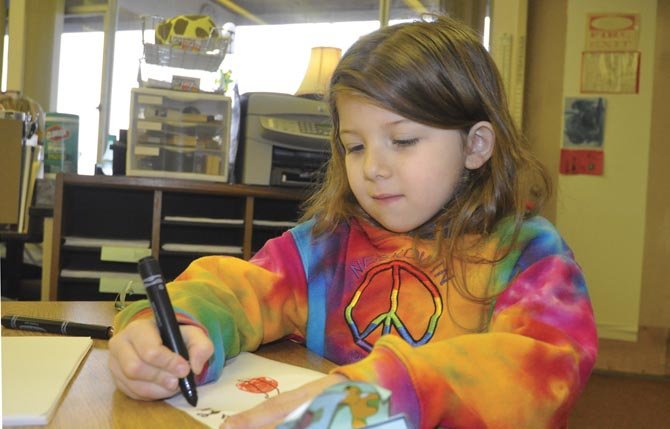 What does 'readiness' really mean?
If "kindergarten-ready" is the new buzzword in discussions about improving education, what makes a child ready for kindergarten? Read related story.
The Dalles — Increasing kindergarten readiness is vital to raising student achievement, according to educators at North Wasco County School District 21.
Anne Evans, principal of Chenowith Elementary, said the state ranks Wasco County dead last when it comes to the number of students considered kindergarten-ready based on meeting certain milestones before starting school.
"About 72 percent of students district-wide come in ready. At Chenowith it's 58 percent," she said. "In our district about 25 percent of students, when they come into kindergarten, are not ready. So our teachers are starting a marathon uphill."
Her comments came during a presentation to the school board by District 21's achievement compact committee, which is responsible for recommending what achievement goals the district should send to the state.
She said the district is moving toward full-day kindergarten to try to bring students up to speed. Next year there will be three full-day kindergarten classrooms at Chenowith and the district's goal is to implement district-wide full-day kindergarten by the 2014-2015 school year.
Evans said they are also looking at other ways to help unprepared students catch up, such as doing a "jumpstart" kindergarten during the month of August for students considered not kindergarten-ready. The district is also collaborating with Oregon Child Development Coalition, Head Start and other programs to align preschool curriculum with kindergarten curriculum for a seamless transition.

"Everyone is open to the idea of a pre-kindergarten through twelfth grade educational curriculum," Evans said.
Board member Carol Roderick said she was especially concerned about students coming into the district from homes where English isn't spoken regularly, but Dry Hollow principal Theresa Peters said helping students acquire English was easier than helping them learn some other skills.
"We have to make sure they have the necessary skills in any language," she said. "As long as they come in knowing numbers and letters and shapes in any language we can deal with that."
Mosier Community School director Carole Schmidt said her school has seen good success in implementing full-day kindergarten over the past few years. It means more classrooms and more costs, but in Mosier they make up for it by charging parents whose children are not on free or reduced lunch. They can't force students to pay and go for the full day, but Schmidt said so far only one student has not attended for the full day.
"Some parents can be reluctant and say 'but they take naps in the afternoon' but we say 'they're five years old and they are ready for school,'" Schmidt said.