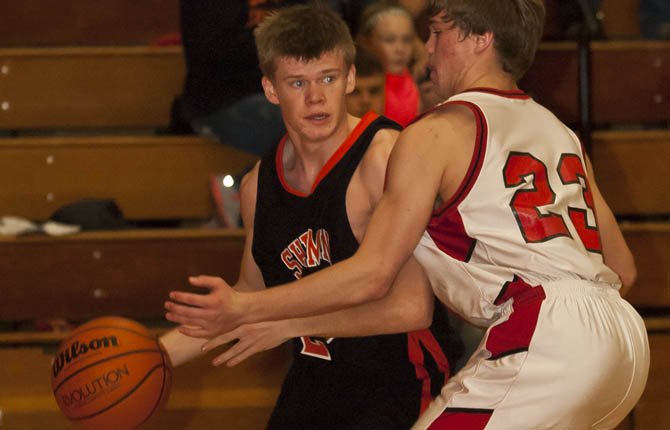 Photo Gallery
Sherman versus Dufur, boys basketbasll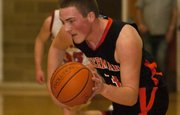 Dufur — Jailin Conboy and Riley Brown had things cooking Friday night against Dufur.
The duo combined for 47 points, including 28 in the first half to vault the Huskies to a 70-47 win over Dufur in a 1A Big Sky Conference boy's basketball contest at Dufur High School.
With its full roster finally in action, Sherman had the scoring touch in the opening frame with four players hitting the nets for a 24-11 lead.
In the second quarter, the Huskies added to their double-digit cushion with a 15-11 outburst to go out in front, 39-22 at halftime.
Nick Little and the Rangers staged a bit of a comeback in the third quarter, as Little dropped nine points and Bryson Caldwell sank a three-pointer to lead their squad to a 16-15 effort to make it 54-38 entering the final period.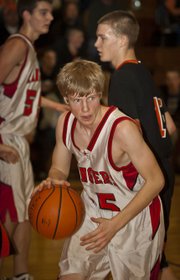 Sherman quickly dismissed any comeback bids in the fourth quarter by using an 18-9 surge to seal the deal.
In that final frame, Austin Kaseberg scored six points and both Brown and freshman Alex Fields drained trifectas.
Overall, the Huskies hit 29 field goals, seven from long range, and shot 7 for 11 from the free throw line.
Kaseberg ended his night with 10 points, Brian Simantel scored four and Ben Holliday and Fields added three apiece.
Although his team ended up on the wrong end of the scoreboard, Dufur coach jack Henderson liked what he saw from his Rangers.
"Sherman played well, but we competed throughout the game," said the Ranger coach. "Our kids continue to improve. We are improving daily."
Caldwell led the Dufur attack with a team-high 15 points, Little poured in 13 and sophomore center Jake Kortge tallied 10 points.
Dufur (5-12 overall, 3-6 league) and Sherman (12-7, 6-3) were in action Saturday in a pair of home games. At 7:30 p.m. Tuesday, the Huskies host No. 7-ranked South Wasco County in Moro. Also at 7:30 p.m. Tuesday, the Rangers hit the road for a date with the No. 1-ranked and undefeated Horizon Christian Hawks.