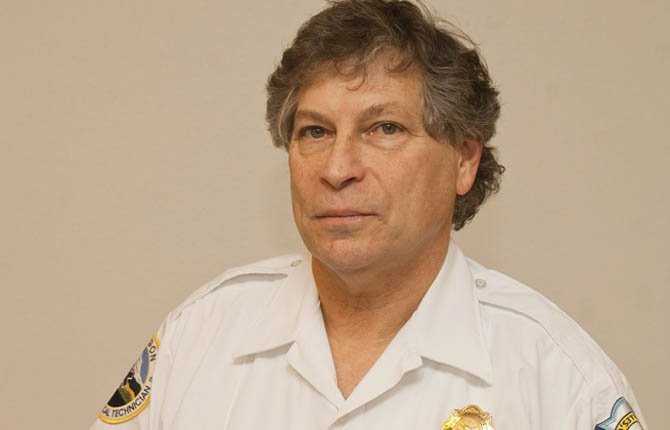 The Dalles — Dave Lapof brings plenty of experience to his new grant-funded job at Mid-Columbia Fire & Rescue as its volunteer recruiter.
He's not only been a volunteer firefighter for over 20 years, but he's also been a paid recruiter, and has served as paid fire chief at two departments. Most recently, he headed the fire department in Siletz. He left that part-time position to begin working here on Jan. 2. Lapof bested a field of 11 qualified applicants for the new four-year position, which is being funded by a federal grant the fire district won earlier this year.
Lapof's varied background includes owning a fleet of fishing tender boats and selling ambulances. In fact, he sold ambulances to the fire district here. And now, he's selling the idea of volunteering for the fire service. "The fire service — all fire departments and districts – need to do a better job of marketing ourselves and what we do and what we can't do. There's probably a lot of people in the Mid-Columbia area that don't know the fire district has volunteers." "We're co-staffed with volunteers and paid firefighters and paramedics. The volunteers play a big role in the mission of protecting the community," he said.
Lapof plans on attending a lot of civic functions to spread the word about volunteering at the fire district. Lapof said the idea of being a volunteer firefighter "scares a lot of people. [They think] 'I can't do what those 20-year-old guys do.'" But firefighters include "lots of people of different genders, sizes, statures. It's everything across the board. I say there's a job for everyone on the fire ground. We just have to match people up to the right job." The district can allow people to specialize in a volunteer role, such as only going on medical calls, or only responding to wildland fires, for example. Lapof has been talking to paid staff to get their thoughts on volunteers and has found they have a welcoming attitude toward volunteers.
That's not always the case with other departments, he said. "The one thing I insist on, and it was echoed by them, the standards are the same for paid or volunteers," Lapof said. They have the same competencies and proficiencies, "even the same drilling hours," he said. "Everybody wears the same color uniform. It should ultimately get to the point where you can't tell if you have a volunteer or paid firefighter on scene."
Lapof started volunteering at a volunteer fire department in Washington in 1988. Later, he became a volunteer at Keizer Fire District — while working for Salem 9-1-1 — and served as a part-time paid volunteer recruiter there. Later, he became the first fire chief of Seal Rock, and then was on staff at the Depoe Bay fire department. He served both roles for about a year, and since both of those departments are primarily staffed by volunteers, he was the volunteer recruiter in both departments, said Bob Palmer, fire chief of Mid-Columbia Fire & Rescue. Palmer said Lapof did well with the task of recruiting and keeping volunteers at those departments.
Volunteerism in fire departments is a longstanding national tradition, but volunteer numbers have dwindled nationwide as employers became less flexible about allowing employees to leave to fight fires, and volunteer training requirements became more strict. The drop in volunteers matters because it can play a role not only in the ability to fight fires, but also in an important rating given to communities that affects homeowners insurance rates. The lower a fire department's rating, the higher insurance premiums become, because insurers calculate that structures are more at risk to damage from fire.
The insurance rating for Mid-Columbia Fire lowered several years ago due to a number of factors, including low volunteerism rates. Another key factor was the lack of multiple fire stations to respond from. Previously, The Dalles had two fire agencies, each with its own station. When the agencies – Wasco Rural Fire District and The Dalles Fire Department — merged in 1998, they moved to one station. The department has also seen two promotions recently. Following the retirement of Capt. Bill Wolfe, Lt. Steve Biehn was promoted to captain, and Jeremy Gillette was promoted to take Biehn's former lieutenant position. Both Biehn and Gillette have been with the district since 2000. The district has 22 career staff, including 18 line personnel and four chief officers. The staff is divided into three shifts and each shift has a captain, a lieutenant, three engineers and a firefighter.