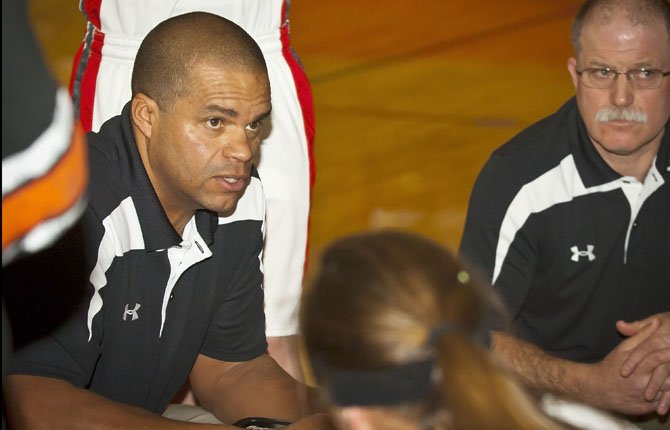 Big Sky Standings
Boys Basketball (West Div.)
Team Overall Lg.
Horizon 20-0 9-0
S. Wasco 15-3 8-1
Sherman 13-7 7-3
Dufur 5-13 3-6
Central 1-15 0-11
---
Girls Basketball (West Div.)
Team Overall Lg.
Dufur 14-4 8-1
Sherman 10-10 7-2
S. Wasco 10-7 5-3
Horizon 5-13 2-6
Central 3-15 1-9
Dufur — Audrey Kaseberg and Katie Poirer scored 10 points apiece, and the Sherman Huskies used the first three quarters to garner some momentum against Griswold for a 56-31 whitewash over the Grizzlies Saturday in girl's basketball play in Helix.
After losing a 16-point game to Dufur, Sherman coach Steve Kaseberg liked how they responded.
"It was a good bounce-back win for the girls after Friday's loss," Kaseberg said. "We were able to work on some things that we didn't execute good enough on Friday."
With the play of Audrey Kaseberg, Poirer and Samantha Coons (nine points), Sherman scorched the baskets in the opening half by using runs of 19-4 and 18-13 to stake itself to a 37-17 halftime lead.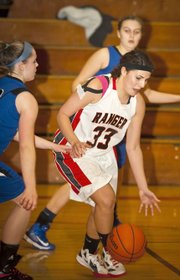 Up by a 20-point margin entering the third quarter, the Huskies slammed the door shut to start the second stanza with a 12-3 run to run their advantage to 29 points.
Griswold's Paden Flerchinger scored 14 points, and teammate Blythe Gabriel tacked on a nine-point effort.
Even with the lopsided win, coach Kaseberg saw some areas to work on in the final stretch of the season.
"We weren't as intense in the game as we know that we have to be in all of our games and that was a low light of the night," Kaseberg added. "In this league, you have to bring your 'A' game every game or the team is going to struggle to have success. Hopefully, the ladies realize they have five games left and each and every game requires the utmost focus on attitude, concentration and effort."
Sherman (10-10 overall, 7-2 league) plays at 6 p.m. on Saturday in a road contest in Sunnyside, Wash. against the Knights.
At 4 p.m. Saturday, Sherman hosts first-place Dufur (14-4, 8-1).
St. Paul girls snap Dufur win streak
Saturday's matchup against St. Paul and Dufur was close in the opening half, with the visiting Buckaroos leading by a slim 14-13 score.
St. Paul then used a 26-14 run in the second half to defeat Dufur 40-27 and end the No. 11 Lady Rangers' two-game streak in their non-league girl's matchup in Dufur.
"They caught some breaks in the third quarter. They got a couple of things going that was the biggest difference in the game," said Dufur head coach Hollie Darden. "They got some easy baskets and layups and some baskets off of offensive rebounds and putbacks."
Although St. Paul held on to a close lead in the third frame, they were able to create some distance from the perimeter with a pair of 3-pointers, including one at the end of the third that put them ahead 27-18.
On the night, Dufur hit only nine field goals and went 6 for 7 from the free throw line.
Taylor Darden led the offensive charge with 16 points, with nine coming in the opening half.
Alexa Macias added four points, Sammi Ghramm chipped in with three points, and the duo of Teneille McDonald and Hannah Harris finished with two points each.
After pouring in 47 points versus Sherman on the previous night, the Rangers struggled a bit from the floor.
"We missed a lot of perimeter shots and they took away our pick and roll sets," said coach Darden. "St. Paul is an athletic team and they are well coached. They played good man-to-man defense against us, which is a different dimension we face when we play in league. We would've liked to win this game, but it was good to play a good team to see what areas we need to work on."
Dufur (14-4 overall, 8-1 league) plays in Hood River at 6 p.m. tonight against Horizon (5-13, 2-6).
Ranger boys have rally cut short
The Dufur Rangers fell behind by double digits early and climbed back to within four points entering the fourth quarter, but St. Paul fended off any comeback bid with a 20-13 spurt in the final frame to hold on for the 71-60 victory Saturday in a non-league boy's basketball contest at Dufur High School.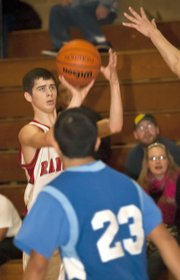 St. Paul got off on the right foot with a 22-12 lead through one quarter. In the second frame, the Rangers climbed back into contention on the heels of a 17-16 output to get to within 38-29 at the break.
Dufur rallied in the third using baskets by five different players.
Jake Kortge scored seven of his 14 points, Cole Parke tacked on five and the trio of Caleb Morris, Nick Little and Bryson Caldwell hit two points each as part of an 18-13 spurt to inch the Rangers to a 51-47 deficit with one quarter left to play.
St. Paul ended the game on a 20-13 run, but the score could have been closer if not for the Rangers struggling from the line at a 3 for 9 rate. Morris had 10 of the points, and Parke poured in three.
Overall, the Rangers hit 20 field goals, adding eight from long distance and from the free throw line, where hit on 12 of 25.
Kortge notched 14 points, Morris scored 13 and both Parke and Little connected for 11 points apiece. Bradley Newman was good for six and Caldwell capped the scoring line by adding five points to the mix.
St. Paul had five players go for double digits on 24 baskets and a 20 of 33 effort from the stripe, as Cole Weisz and Garrett Merten led the way with 13 points each.
Dufur (5-13 overall, 3-6 league) plays Horizon Christian at 7:30 p.m. tonight in Hood River. Starting at 6 p.m. Friday, the Rangers travel to Arlington (11-7, 5-6).