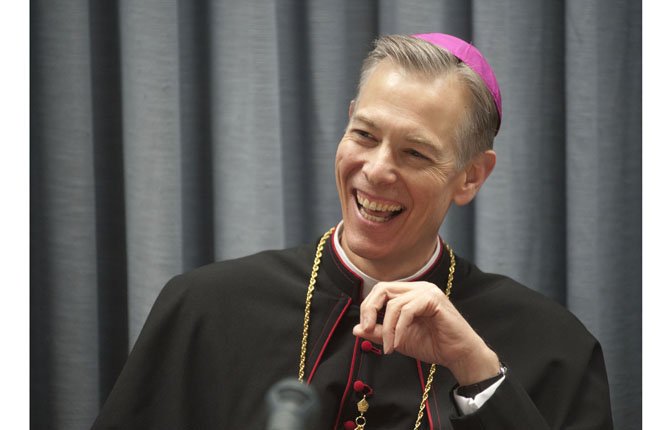 PORTLAND, Ore. (AP) — Roman Catholic Church officials say Bishop Alexander K. Sample of Marquette, Mich., will succeed Archbishop John G. Vlazny in western Oregon.
Vlazny has been archbishop of Portland since 1997. The Oregonian reported (http://bit.ly/VR5Hxx) he turned 75 and submitted his resignation in February 2012. The Archdiocese of Portland includes about 400,000 Catholics.
The 52-year-old Sample was born in Kalispell, Mont., graduated from high school in Las Vegas and studied at the College of St. Thomas in St. Paul, Minn., and the Pontifical College Josephinum Seminary in Columbus, Ohio.
He has bachelor's and master's degrees in metallurgical engineering from Michigan Technological University.
"I pledge to do my very best, with the help of God's grace, to be the shepherd for whom you have been praying," Sample said, referring to a prayer in English, Spanish and Vietnamese that had been posted on the archdiocesan website.
He's been a priest since 1990, was bishop of Marquette for seven years and becomes the 11th archbishop of Portland.
"The most important thing to know about me is that I'm a believer," Sample said. He also read a statement in Spanish and directed comments to Vietnamese, Native Americans and other cultural groups, saying they "enriched" the archdiocese with a "splendid diversity."
Vlazny plans to move to a retired priests' community in Beaverton and said he'd offer Sample help and advice if he asks for it.
The archbishop is the top church officials for Oregon west of the Cascades. The archdiocese has 124 parishes, 10 Catholic high schools and 10 Catholic hospitals, according to the diocesan website.
---
Information from: The Oregonian, http://www.oregonlive.com
Copyright 2013 The Associated Press.