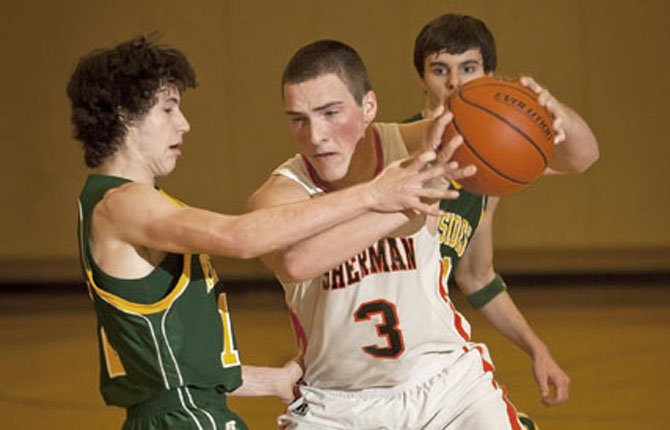 In the process of making adjustments after an earlier loss to South Wasco County, the Sherman Huskies went back to basics – the classroom for some film study.
Whatever they saw on the video, the Huskies ironed those issues out Tuesday and turned in their highest point total since Jan. 5 for a 77-68 victory over the No. 5-ranked Redsides in a Big Sky Conference boy's basketball showdown in Moro.
Sherman point guard Nick Coleman did not play in that game on Jan. 12 in Maupin.
He saw a stark contrast overall.
"I saw the video of the last game and what I noticed is that tonight we put out a lot better effort as a whole," Coleman said. "We were flying around and playing like we like to play. We cannot turn it off. We have to turn it on and keep it on and not have little lapses or spurts where we lower our intensity and allow other teams to go on runs and gain their confidence back."
The first quarter was back and forth with each team trading leads, but Sherman led 17-16 after eight minutes.
From the midway point of the second quarter on, the Huskies continually built on their lead.
Up 44-29 at the break, Sherman maintained that edge with cushions of 14, 15, 16 and 17 points.
After a layup by Redside shooting guard David Ocacio pulled his squad to within 55-41 with two minutes and 28 seconds left in the third, the Huskies answered with a 9-3 spurt in a span of 38 seconds.
Jailin Conboy rattled home a deep ball, Austin Kaseberg followed that up with a 3-pointer of his own to run the Sherman lead up to 61-41.
Ocacio added a three-ball to make it 61-44 with 1:41 left, but Conboy received a pass from Riley Brown and swished another 3-pointer to make it 64-44.
Wyatt Creel scored a layup for the Redsides, Kaseberg poured in a runner to move the Huskies in front 66-46 and Ocacio capped the frame with a steal and a layup to make it 66-48 entering the final quarter.
With the Huskies up 73-54 with five minutes to go, Loreto Morelli hit a layup, Travis Hayes sank a 3-pointer, Ocacio grabbed a steal and a layup and after a Sherman turnover, Ocacio tacked on another runner to move the Redsides to within 73-63 with 3:01 left.
The Redsides had two more chances to creep closer, but could not capitalize.
At the 2:12 mark, Colton Nannini glided in for a layup, then Kaseberg hit a short shot and Creel hit a layup and a foul shot to run the count to 75-67 with 1:34 remaining.
The Huskies hit on 2 of their final four free throws, and SWC missed a shot and committed two turnovers in the final 1:24 of the contest.
"I think Sherman handled our pressure very well. They took care of the ball, they moved the ball and they got a lot of easy opportunities early," said SWC coach Jim Hull. "We looked a step slow. If you put those two together where they are looking sharp and we look a step slow, it ends up going like it did tonight."
The Redsides had six players hit on 28 baskets, as Ocacio led the charge with 29 points.
Creel had 15 points, Nathan Duling hit on 11 and Hayes added seven to round out the leaders.
Sherman head coach Mike Somnis praised the way his team performed in front of the home crowd.
"Jailin Conboy defensively and rebounding the ball, on top of the way he can score, is doing a fabulous job," Somnis said.
One player who really opened Somnis' eyes was the sophomore Kaseberg.
"Austin Kaseberg was phenomenal tonight," Somnis said. "He played the way he is capable of playing every single night. The way he attacked the rim, the way he played defense, the way he flew off the basketball, I am really proud of the way he played along with everybody else."
In all, Sherman hit 29 field goals, four from long range, adding 15 of 23 from the free throw line.
Kaseberg scored a season-high 28 points, and Conboy added 27 points, 14 rebounds, eight assists, five steals and five blocks.
Kaseberg scored 16 of his points in the second half, 10 in the third quarter and Conboy had his largest contributions in the opening half with 18 points.
Brown had eight points, Simantel was good for seven and Coleman hit on six points.
Part of the video session covered what last season's Husky team did on their way to third place at state.
Simantel called that moment inspiring and it translated to Tuesday's performance.
"We hustled more and we boxed out on every shot going up," Simantel said. "We knew who to guard and who not to guard and everything came together tonight. It was the work mostly. We haven't been working our hardest lately and that is what we did tonight."
Sherman (14-7 overall, 8-3) hosts Dufur at 3:30 p.m. Saturday in a re-scheduled game.
At 7:30 p.m. Friday, the Redsides (15-4, 8-2) travel to Hood River to take on No. 1 Horizon Christian.