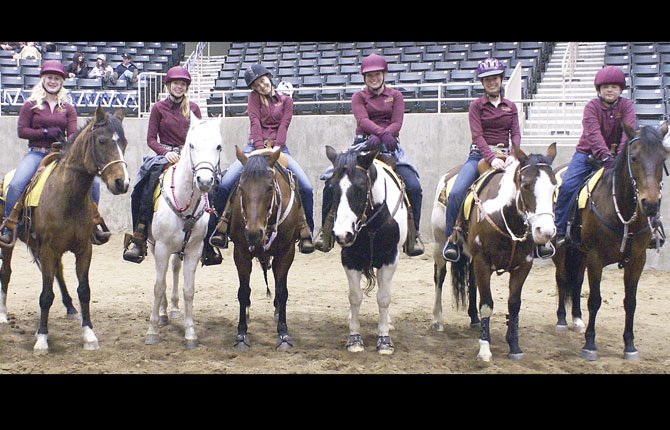 The Dalles — With just 23 calendar days until the start of the 2013 equestrian campaign, The Dalles Wahtonka head coach Marie Cordell has her squad heading in the right direction to put up some solid marks and top finishes.
It is an impressive T-Dub group that has a mix of newcomers and wily veterans who have been competing against some tough competition through the years.
Senior returner Faith Hodges is the veteran of this group of four sophomores and three juniors.
Carsen Cordell, a junior, will be another key cog on this squad along with returning sophomores Jordan Fus and Shyanna Nails.
Junior newcomer Cheyenne Renard is a rider to keep an eye on as are Thomas Richman, a junior, and sophomores Jacob Richman and Andrea Beckley.
"We have three boys this year and they will all be competing in the ranch classes, trail and cow events," said coach Cordell. "Jordan and Shyanna will be joining Carsen to compete in Dressage and Hunt Seat Equitation. It will be Faith's second year on her horse 'Ranger,' so I am sure they will do well in western equitation along with Cheyenne and others."
Coach Cordell looks forward to a solid year in team penning with Carsen and her horse 'Angel' leading the way.
"Angel loves to chase cows. Carsen and her are amazing to watch, fast and exciting," Coach Cordell said. "Sometimes you never know what a horse and rider can do until they are in the middle of it."
Practices started in the beginning of December and the team has been busy learning and practicing new skills on their horses with their coaches, including top assistant, Hew Hillis.
Earlier this month, this squad received the equitation patterns for this next year of competition and coach Cordell said they are learning those along with some of the team-timed events like Canadian Flags.
The coach added that quite a few of these events are only done at High School Equestrian meets and they are not done in 4H or High School Rodeo, so they are new to many of the team members.

With the numbers increasing from last season, this Eagle Indian group will be able to have two groups compete in Team Penning this year, with alternates.
"I think we may have at least one team member in almost every event this year; that is very exciting," said Cordell. "It is so great to have all these hard-working kids out learning to be better equestrians."
They just finished a two-day team-penning clinic with Neil Slater, rancher from Goldendale, Wash.
This group has an even split talented members and that gives reasons for some optimism.
It is coach Cordell's hope they can continue their upward swing as they set their sights on attaining equestrian supremacy across the state against competitive teams hailing from Madras, Redmond, Bend, Hood River Valley and Dufur to name a few.
"It is always tough to compete in our district," added coach Cordell. "We have the top teams in the state and many of them are very large. I believe the Redmond team is bigger than their football team. Summit and Bend have amazing teams with a lot of talent. They live in horse country. Those teams are always the ones to beat."
The Eagle Indians kick off the first of three events in a three-day stretch starting on Feb. 22 in Redmond.
After that, TDW has events on March 29 and April 19.