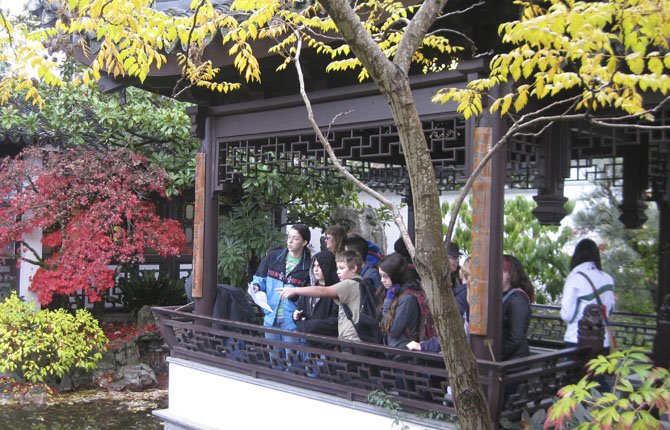 The Dalles — For gifted students who learn much faster than most of their peers, school can get pretty boring sometimes.
To help re-engage those students and provide some extra enrichment to ensure they're still learning, North Wasco County School District 21 has the Talented and Gifted program.
"We're fortunate that the school board has remained committed to providing this to the students," said Lance Masters, the district's Talented and Gifted coordinator.
He oversees a variety of programs, from field trips for Talented and Gifted students to enrichment projects during lunch and even programs that benefit all students, not just those who have tested in the 97th percentile or above on an intellectual aptitude test or met other criteria for becoming a "TAG" student.
Currently Masters is working on a pilot program to get a set of Nexus computer tablets into a sixth grade classroom. Those tablets would be filled with applications to help students understand everything from poetry to molecules.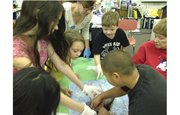 Masters gave an example of one planned use of the tablets: When students are learning about Native Americans they could use a totem app to learn about what characteristics the different animals on the totem poles were supposed to represent and then design their own. They could also take a virtual tour of a totem pole park in Alaska.
"It's a really cool way to get kids interested in the animals and make it more personal than just reading the one paragraph in the textbook," he said.
He plans to substitute teach a day or two for Colonel Wright Elementary teacher Teal Everts so she can do art projects with the Talented and Gifted students. And field trips planned for the new semester, which started this week, include a trip to the Oregon Shakespeare Festival in Ashland, an outdoor school at John Day and a day-long high school art field trip to various galleries and museums in Portland.
Masters is also helping coach some teams for Destination Imagination, an international creative problem-solving competition that he described as a "great opportunity for some of our best and brightest kids to get involved."
Masters described four Talented and Gifted field trips the students have taken so far this year:
Oregon Museum of Science and Industry
Masters took a group of elementary school students to the Oregon Museum of Science and Industry (OMSI) in Portland in the fall. They started with a behind-the-scenes presentation on buoyancy and then got to apply what they learned.
"They made boats out of clay and put them in a tank and had a contest how many marbles they could fit in their boat before it sank," Masters said.
They spent the night on the U.S.S. Blueback submarine and had the museum to themselves the next morning before it opened, with scientists on hand to help explain the hands-on exhibits in the museum.
Salmon Watch
When the seventh grade classes took part in the Salmon Watch program hosted at Eagle Creek by the Forest Service, Masters went along as a chaperone and asked to have all TAG students in his group.
They got to watch the life cycle of the salmon in action, take a guided hike through the riparian zone, test water sources for the elements that make them hospitable to salmon and catch the macro invertebrates that salmon eat.
Afterward, Masters helped his group expand on what they learned by challenging them to create a curriculum to teach third graders at Dry Hollow about salmon. The students met during their lunch breaks to make posters and plan their presentation.
As part of the presentation they came up with the idea of having a salmon life cycle obstacle course in the gym.
"They had to get past a shark and a fisherman, they had a hula hoop fish ladder and tootsie rolls to collect for food and jump ropes for the dam turbines," Masters said. "To see what these kids were capable of was really incredible."
Cultural Adventure
Masters also took a group of seventh and eighth graders on a "cultural exploration adventure" in Portland. He used the objectives in the students' Social Studies curriculum.
"I took them on a tour of the Lan Su Chinese Garden so they could see the culture instead of just read about it," he said.
He also took students to the Oregon Historical Society for a docent tour. They got a look at the Oregon Voices exhibit, where they debated ethical questions from Oregon's past using primary sources like newspapers and journal entries.
"They were helped by seeing what real people were saying at the time," Masters said.
The students had a scavenger hunt throughout the day—when they went to Powell's Books they had to write down the name and author of a book in each colored room that they would actually want to read, and when they ate lunch at the food carts they had to write down the names of food stalls from six continents.
Metalworking
In December, elementary and middle school students were visited by metal artist Brad Lorang, who helped them design their own Christmas ornaments. A week later they visited his studio in Cascade Locks to airbrush and then take home their cut steel ornaments.
They also visited the Soderberg Bronze Foundry and Studio, where they saw molten bronze poured and met the world-famous Heather Soderberg, who sculpted the famous Sacagawea sculpture in Cascade Locks. She showed the students her process, from a pile of clay to a finished bronze statue.