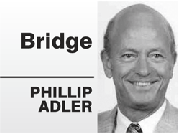 Herbert Beerbohm Tree, an English actor and theater manager who died in 1917, said, "A committee should consist of three men, two of whom are absent."
So, a male bridge declarer is a committee. In this deal, how should the committee play in three no-trump after West leads the heart jack?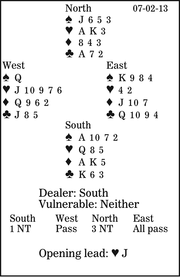 Most authorities recommend not using Stayman when responder has 4-3-3-3 distribution with a four-card major. And that will be right most of the time. However, when there is a 4-4 fit and opener has 4-4-3-2 distribution, the suit in which the partnership has only five cards could prove to be a fatal weakness. (Note that in this deal four spades has no chance, but if West had a second spade, it would be makable.)
South starts with eight top tricks: one spade, three hearts, two diamonds and two clubs. His order of business is to collect a second spade trick. And there is a guaranteed line of play. After taking the first trick, declarer should cash his spade ace. Here, the queen drops from West, so South continues with a spade to dummy's jack. But if the ace collects only low cards, declarer still plays another spade and must eventually establish that second winner.
Note that initially playing a spade to the 10 is fatal here. The tempting finesse must be deleted from the agenda.
Finally, here is another question: Suppose South needs three spade tricks. What should he do?
Now it is correct to play low to the 10 on the first round. And if it loses to the queen or king, South next cashes his ace. He has a paltry 37 percent chance of success.