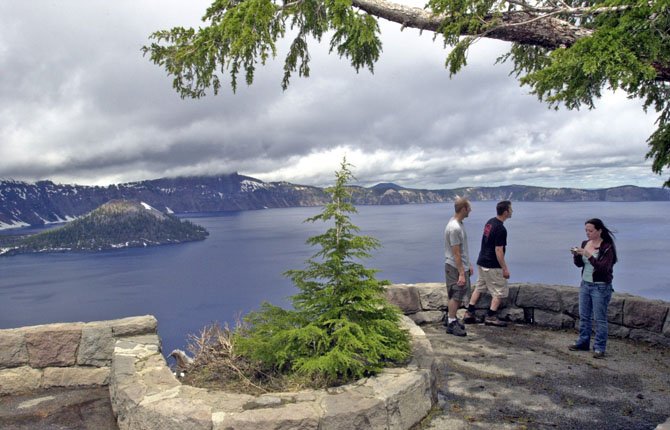 GRANTS PASS — Crater Lake National Park plans to stay open by whatever means necessary as water shutoffs that have been drying up irrigated pasture for tens of thousands of cattle extend to the creek that serves as the park's sole source of drinking water, park superintendent said Monday.
Superintendent Craig Ackerman told The Associated Press that if the water shut-off goes through, the park will stay open through the summer with an emergency conservation plan, which includes trucking in water, turning off campground showers and deploying 120 portable toilets. The park is also installing low-flow showers, faucets and toilets, regardless of whether the shut-off goes through.
Meanwhile, the Oregon Water Resources Commission on Monday approved an emergency six-month exemption for human consumption and watering livestock for the rivers that have come under regulation of newly approved water rights in recent weeks. The combination of drought and state approval this year of water rights dating to time immemorial for the Klamath Tribes for fish conservation have required the department to shut off irrigators on the Sprague, Williamson and Wood rivers and their tributaries.
Specifics of how it would apply to the park remain uncertain until watermasters evaluate the situation in coming days, said Doug Woodcock, field services supervisor for the department.
Ackerman said the conservation measures are being taken despite having 5 trillion gallons of the "cleanest drinking water on earth" sitting smack in the middle of the park.
"Our in-stream water right for the lake is to preserve the natural characteristics of the lake by leaving the water in it," he said. "Taking public water out of the lake would be in opposition to the purpose the park was created, as well as having a significant environmental impact."
The potential for a water shut-off was previously reported by the Herald and News newspaper in Klamath Falls.
Crater Lake is Oregon's only national park and was created in May 1902 to protect the lake, the nation's deepest and clearest body of water. It formed in the caldera left after Mount Mazama erupted more than 7,000 years ago.
This year's snowfall of 29 feet at the park was 15 feet short of normal, contributing to low streamflows in the Klamath Basin. Late snowfalls that sometimes come in April and May never materialized.
Also this year, the state adopted the first system of water rights for the upper Klamath Basin. That gave the most senior water rights to the Klamath Tribes for fisheries conservation on rivers flowing through their former reservation lands. State watermasters have been shutting off irrigation diversions for ranches with junior water rights to meet the flows due the tribes.
Watermaster Scott White said shut-offs could reach the Wood River later this week.
The park's water is drawn from Annie Creek, a tributary of the Wood River. Dating to May 1902, the park's water right is 28th in priority, Ackerman said.
Ackerman said the park has been working for years to develop a backup water source in case of drought, but a well drilled to 430 feet came up dry. An emergency management team was called in last month and put together the conservation plan.
The park has reservoirs that hold enough water for about a week at the typical rate of 60,000 gallons a day, he said. The park gets about 4,000 visitors a day in summer, for a total of about 500,000 a year. Most of them stay around Rim Village, the primary overlook for the lake and site of the lodge, gift shops and restaurants.
There are 150 park service employees and 450 concession employees in summer.
If access to Annie Creek is cut off, water trucks would haul water directly to the park's water treatment plant, he said.
The goal is to reduce water use by more than 25 percent, but when similar measures were taken at Yosemite National Park, they were able to cut water consumption by about half, he said. About 120 portable toilets will be put out at trailheads and parking lots. Flush toilets will still be available at restaurants.
Visitors to Crater Lake Lodge will be able to shower and flush toilets, but servers at the dining room and other eateries will not put out water unless it is asked for, he said. Housing for park personnel and concession employees will be equipped with low-flow showerheads, faucets and toilets.
Mazama Campground will have drinking water and portable toilets, but showers will be turned off.
Copyright 2013 The Associated Press