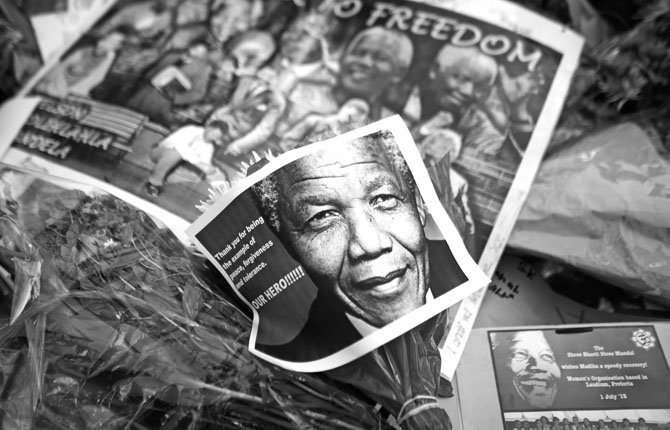 When Americans think of Africa, they tend to think of it as a backward land that is desperately in need of our country's great wisdom.
But sometimes a figure emerges from that continent who teaches us a lesson or two.
Nelson Mandela, who at last report was in critical condition in a South African hospital, has been one of those people.
He has been hailed for his political bravery, his work against racism, his presidential policies and his humanitarian efforts. But perhaps the most poignant lesson Nelson Mandela ever taught the world was forgiveness.
They say those that forget the past are doomed to repeat it. But sometimes it is those who can't let go of the past who contribute to the cycle.
When Mandela was elected president of South Africa in 1994 he had plenty of reasons to use his power vindictively.
At 76, he had spent more than a third of his life in prison for his fight against government-sponsored racial segregation. Eighteen of those 27 years he spent imprisoned at Robben Island, where he was confined to a seven-foot by eight-foot concrete cell and allowed only one visit and one letter per year. His abuse by white guards mirrored what was happening to other black South Africans outside the prison, and his years of being forced to perform hard labor in a lime quarry during that time permanently damaged both his lungs and his sight.
Yet when he was finally freed and elected to a position of power, he did not continue the cycle of abuse by degrading the white Afrikaners who had mistreated his people for so many years. He scorned the hypocrisy of such a move, stating truthfully that "courageous people do not fear forgiving for the sake of peace."
For Mandela, it wasn't enough to stop black citizens from being limited to substandard schools, health care, public facilities and more. He wanted to see South Africa become a "Rainbow Nation" where all races united instead of regarding each other with suspicion and hostility. If he had not worked so diligently toward that goal it is likely resentment would have grown and turned into violence in many parts of the country.
One of the signature moments of Mandela's efforts to promote national unity came during a rugby tournament. Black South Africans had previously cheered against their own country's rugby team, which they saw as a symbol of apartheid and white supremacy. Mandela admitted feeling the same way when he was imprisoned but encouraged black citizens to get behind the team as the country hosted the 1995 Rugby World Cup.
After a thrilling and unexpected championship win over New Zealand, the image of Mandela presenting the trophy to star white player Francois Pienaar while wearing a team jersey with Pienaar's number on it became representative of Mandela's work to unite South Africa.

Many of the lessons Mandela taught the world can be applied to the United States, and they can still apply today. Our country may not be under apartheid rule, but there are still many divides in our country that are subtle but nonetheless real.
We see verbal, psychological, and even unofficial physical divides between races, classes, religious beliefs (or lack thereof), political parties and sexual orientations. Those divides may not manifest clearly in face-to-face interactions but they do rear their ugly head on the Internet in comments and Facebook posts.
If Nelson Mandela was able to cheer for the rugby team representing those who unfairly imprisoned him for 27 years, surely we can find it in ourselves to reach out a hand of friendship to those whose only crime against us was to disagree with our worldview.