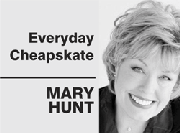 Everything I know about buying and selling clothes on consignment I owe to my friend Kathleen, a remarkably well-dressed woman. She shops in consignment stores located in upscale areas. And, boy, can she dress. She's a consignment seller, too. I've known Kathleen to buy an outfit from one of her favorite consignment stores for a special occasion, then turn around and sell it back into consignment the next day. See what I mean? She's very clever.
The consignment process is simple. If you are a seller, the store sets its criteria for accepting merchandise, and sets the price — usually 50 percent of the new retail price. Expect a consignment shop to have very high standards for what they will accept: Must be a current style, must be brought in clean and must have no visible wear, holes or stains.
Now your items will be put on the sales floor and displayed for 30 to 60 days. Once sold you will receive 30 to 50 percent of the purchase price depending on that store's policy.
Recently I have fallen in love with an online consignment store, ThredUp, that specializes in children's clothing. I recently stopped by with my 3-year old grandson, Eli, in mind.
I was pretty much blown away, as I searched through size 4T. I'm talking designer brands in the latest styles with everything priced more like a sale at Target, not full retail at Nordstrom. An adorable Mickey Mouse jacket ($6.99) and bright yellow Izod sweater ($9.99) caught my eye.
The pictures and descriptions were so clear and thorough, I had no doubt about the colors, quality and condition. I grabbed them up fast because I knew they would be perfect. My first order came to $16.99 total, as I was eligible for free shipping on top of these rock-bottom prices. The items arrived in just three days, beautifully wrapped and just in time for "Yellow Day" at preschool. And that jacket — what a find! It is 100 percent cotton, with a very soft, lightly quilted lining. I could not be happier.
ThredUp customers can also sell items on consignment to earn store credit to buy more clothes or for cash via PayPal. ThredUp sent me a big bag with my order, inviting me to fill it up with items that meet its high standards and return it following the printed instructions. It doesn't get much easier than that.
You know that I never recommend products and services that I do not use myself and believe in. You can add ThredUp to our EC list of reliable resources.
The folks at ThredUp have kindly offered EC readers a $10 off coupon, which you can get at EverydayCheapskate.com/ThredUp. (This coupon cannot be combined with other offers and does not apply to shipping.) What a lovely gesture, ThredUp. Thanks!
As soon as I put a period on this sentence, I'm calling Kathleen to tell her that ThredUp just opened its new women's shop.
Mary Hunt is founder of www.DebtProofLiving.com, a personal finance member website.
You can email her at mary@every
daycheapskate.com, or write to Everyday Cheapskate, P.O. Box 2099, Cypress, CA 90630.
To find out more about Mary Hunt and read her past columns, please visit the Creators Syndicate Web page at www.creators.com.