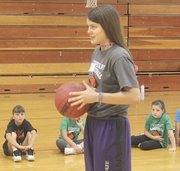 For a fundraiser event, the 20th annual Jumpstart Basketball Camp welcomed a record crowd of 160 youngsters for five days of fun and action ending last Friday at Dufur High School.
Every day started with an opening speech and then kids broke up into groups to practice skills on the hardwood.
At the end of each day, the kids embarked to Dufur City Pool for swimming under the sun.
There was also the Casa El Mirador Shootout, which took place every day.
All campers received a take home packet at the end of day one, detailing the week's plan, swimming, coupons and more.
"We take one portion per day and build a theme for that particular day," said event coordinator Tom Conklin. "At the end of the week, we put all pieces together, so the final piece is, 'Watch your Character, for it will be your destiny.'"
At the close of the week, on Friday, parents and the athletes filled up the DHS gym for a closing ceremony and the highly anticipated Jumpstart DVD show.
There was a list of 14 coaches from Wishram, South Wasco, Dufur and The Dalles in attendance to lend a hand in the tutorial process to the local boys and girls from across the Gorge.
Conklin was happy to see the camaraderie between coaches and athletes throughout the week.
Brian Steven, in his seventh year, instructed the boys and girls in the fifth through ninth grades along with Jason Cooper (Wishram), Tim McClure, Courtney Kendrick, K.J. Ramsey, Greg Glesener and Gabe Montoya.
In the upper gym with the youngest age group was Conklin, Shanelle Smith, from South Wasco County, Brody Myers, Ellis Rager, The Dalles Wahtonka's Katie Burns, and Dufur's Kup Kup Jackson and Taylor Darden.
Jumpstart Basketball Camps began back in 1992, on the idea that basketball can be a sport where many aspects of a person's character can be shaped.
This is the goal of each Jumpstart Coach as well.
Conklin added that this summer's theme would be, "What is going to be your destiny?"
"Jumpstart Summer basketball camp has and always will be a camp that teaches character, vital basketball fundamental skills and is also a fundraiser for many local organizations," Conklin said.
Each winter, the Jumpstart organization is involved in raising funds to offset the cost of running a camp of this size and quality, through the Columbia River Trail, three-race series.
Conklin said Jumpstart also offers youth of the gorge area fall elementary cross country races and spring track events.
For more information on the program or to donate, call 541-340-9307 or e-mail tdconklin @qnect.net.