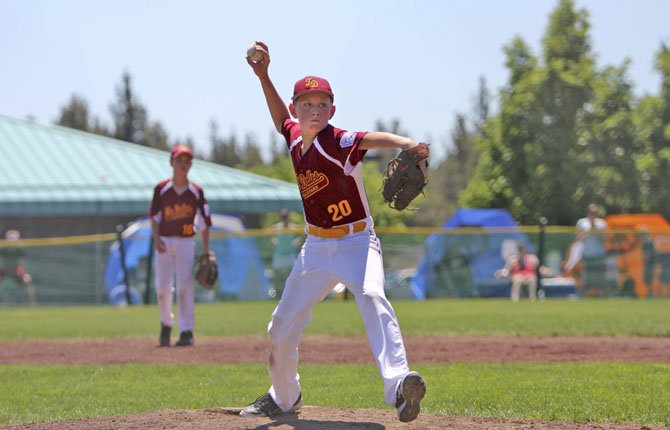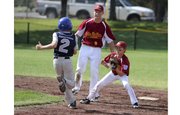 In two games, The Dalles 12U Stars have put on an offensive clinic.
Henry Lee has posted a 1.000 batting average after two games, Andy Carlock is batting .571 and the trio of Ben Nelson, Jake Roetcisoender and Devon Eiesland are all at .500 to pace a TD group that has outscored its opponents by a combined 21-4.
Aside from the hot bats setting the pace, TD head coach Dennis Eiesland has juggled his pitching staff by limiting pitch counts so he has plenty of artillery for the stretch run.
In the first round game Saturday, The Dalles got a fast jump on Columbia with three runs each in the first three frames and rode that beginning to a 10-3 victory.
Up 3-0 through one inning, Tyler Vassar had an RBI and Henry Lee added a two-run home run to right field to run the TD cushion up to 6-0.
Vassar had another RBI and Lee drove in Ben Nelson and Vassar with a two-out, two-run double to run the count out to 9-0.
In the fifth, Carlock had an RBI to cap the TD scoring to make it, 10-1.
Nelson and Roetcisoender worked the final inning to slam the door shut for the win.
The goal was to have the pitchers throw 20 pitches or less, so the group of Lee, Mathisen, Jordan Wetmore, Nelson and Roetcisoender closing it out with 10 strikeouts.
Lee finished a triple shy of the cycle with a 3 for 3 effort with a walk. Carlock, Roetcisoender and Vassar had two hits each and Mathisen went 1 for 2 with a walk.
In an afternoon contest Sunday, Lee roped another home run and The Dalles broke open a 4-0 lead with five runs in the fourth inning to roll past John Day River, 11-1.
"We did pretty good," said TD Star Devon Eiesland, who reached safely in three of his four at-bats. "We played as a team. Good plays, good hits and Henry hit one over [the fence]."
TD could not get the timing down on JDR ace pitcher Hagen Pence, but got things going after going scoreless for the first two frames.
In the decisive fourth frame, Nelson, Lee, Carlock and Roetcisoender had RBIs and Lee swiped home on another play to swell the lead to 9-0.
In the top half of the sixth, TD used an RBI by Carlock and he later crossed the dish on a wild pitch to run the count to 11-1.
Mathisen and Nelson then retired JDR in order in the sixth to close the win, as Nelson struck out the final batter looking.
The 12U Stars played at 2:30 p.m. today versus Bend North in a quarterfinals showdown.
The winner of this game then plays against the winner of Bend South and Hood River at 8:30 a.m. Thursday.
HR had a bye in the opening rounds, and then they defeated Hermiston by a 5-4 score.
After a loss to TD Sunday, John Day River beat Redmond in a 17-11 shootout to keep their season going.
They played at 8:30 a.m. today versus Crook County.
11U Stars vault to semifinals
The scorching suns of Bend are not deterring The Dalles Little League's 11U All Stars from an impressive run into the semifinals.
TD has put together two victories thus far, with the first coming in mercy-rule fashion.
In that contest versus Hood River, Dominic Smith and Zach Anderson combined for four innings of three-hit ball, and Dalles Seufalemua rifled a home run in the first inning to lead The Dalles to a 10-0 win.
"Dalles hit a two-run home run in the bottom of the first inning to set the tone with the bats," said TD head coach Joe Abbas. "The bats were hot, all 11 reached base safely in the game."
Smith got the starting nod and doled out three scoreless frames and Anderson closed things out with a top inning.
On Monday, TD hit the field again opposite Jefferson County, out of Madras, and inched away with a close 3-1 decision to earn a semifinals ticket.
The Dalles has two days off until playing Bend North at 8:15 a.m. at Lava Ridge Elementary School.
Hood River is in the loser's bracket for a loser-out matchup against Hermiston today.
John Day River lost 25-2 in its opener after a bye, so now they are in the loser's side for a game at 5:15 p.m. versus Bend South.
10U team needs big run to win
It is time for The Dalles' 10U All Stars to roll up their sleeves for a chance to earn a state berth.
After losing 15-4 Sunday to Bend North, TD bounced back with a lopsided 13-2 triumph Monday over Jefferson County.
The Stars hit the field at 5 p.m. tonight versus Hermiston. If they win, they play at 11 a.m. Wednesday.
In order to keep their season going TD needs to secure five consecutive wins in order to punch a state tournament berth.
Hood River won a pair of games over John Day River and Columbia by a combined margin of 32-10 to move into the quarterfinals. They played in the semifinals opposite Bend North at 11 a.m. today.
John Day River lost 14-4 to Hood River in the opening rounds, and then they beat Crook County 18-1 in their first loser's bracket.
At 2 p.m. tonight, JDR plays Sisters.