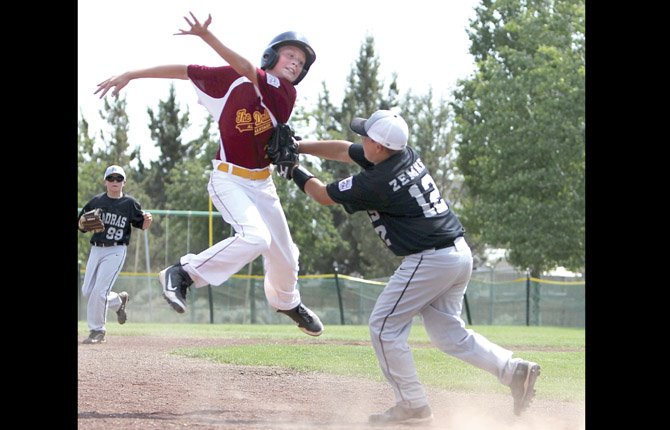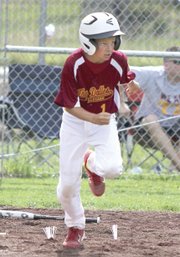 The Dalles — Through four innings, things looked grim for The Dalles 11U All Stars.
They were down by a 4-1 score and the once potent offense had been stymied to the tune of one run on four hits.
When a team is destined however, good things find a way to happen.
The Stars tied the score with three runs in the top of the fifth inning, and then they managed a four-run outburst in the top of the seventh before holding off a furious rally to post an 8-5 extra-inning triumph over Bend North in Little League All Star baseball action at Skyview Middle School in Bend.
Tuesday's win put TD into the semifinals, where they will slug it out against Hood River on Thursday for a championship game berth.
In the fifth frame, The Dalles notched a quick run on the boards, then Caden Mathisen drove in Henry Lee with an RBI single, and he eventually coasted home on two-out RBI single by Riley Mills to even the count at 4-apiece.
Both teams came up empty in the sixth, so this showdown had to be settled in extra innings.
Ben Nelson started the seventh frame with a walk. He then swiped second and third base before scampering home on a passed ball to make it 5-4. Tyler Vassar received a walk and both Lee and Andy Carlock ended up being plunked to load the bases.
With an opportunity to add to a one-run lead, Jordan Wetmore took full advantage and hammered a bases-clearing triple to swell the lead to 7-4. Wetmore capped the barrage by crossing home on an RBI single by Mathisen to run the tally to 8-4.
Although Wetmore had the big hit in the seventh, he had to tap dance through a minefield in the home half.
Bend North scored a single run on a two-out hit, followed by a double to inch closer at 8-5.

A walk then put two runners on base and brought the tying run to the plate with two outs.
Wetmore settled his nerves and wound up getting the game-ending punch-out to secure The Dalles' 8-5 winner.
Vassar led The Dalles with two hits, a run and a walk, and Mathisen added two hits, an RBI and a run scored.
Lee did not have an official at-bat, reaching on two hit by pitches and two walks, but he scored twice.
In this three-game span, TD's pitching staff has been tagged for nine runs, while scoring 29.
On the mound Tuesday, Wetmore tossed 2 2/3 innings of three-hit ball with two walks and two strikeouts to secure the win.
TD plays in semifinal action at 8:30 a.m. Thursday.
11U Stars escape with 3-1 winner
Josh Johnson did a high wire act in Monday's game against Jefferson County, but he had the right pitches hit their marks when it mattered most.
The Dalles' 11U Stars scored three runs in the first inning and Johnson stranded the bases loaded in the top of the sixth frame to help his squad to a 3-1 win and a berth to the semifinals at the Little League Regional playoffs at Lava Ridge School.
After leaving two runners on in the fifth, Johnson had to nurse this slim three-run cushion home to the finish line.
Jefferson's first batter roped a single to left field, and the next hitter follows with an RBI single to left to make it 3-1, but that runner ended up being gunned down trying to stretch the play at second base on a tag by Mike Armstrong.
The next three Jefferson hitters then reached base on three consecutive errors to load the bases with one out.
Sam Thalhofer made the flyball putout in right on the next at-bat and he was able to keep the runner from tagging up. With two outs, the seventh hitter of the frame went toe-to-toe with Johnson.
The right-hander induced a game-ending lightly hit popup to Armstrong for the final out.
"Pitchers threw really well," said TD coach Joe Abbas. "The game plan was to keep pitch counts low to keep all pitchers available for Thursday. This was well executed by our players."
Jefferson County had another opportunity in the fifth inning, but left two runners on base and amassed nine for the game.
In addition, another Jefferson runner was thrown out at home trying to score on a wild pitch, which ended a bases-loaded jam in the top of the first.
After escaping that jam, The Dalles got things going in the bottom of the first with singles by Sam Thalhofer, Dalles Seufalemua and Dominic Smith.
Smith drove in one with his liner and Mac Abbas chased home two runners with a double.
Seufalemua went 2 for 2 with a run and a walk, and Smith tacked on another two hits with an RBI.
Thalhofer, Anderson and Austin Weir had the other TD hits. In all, they stranded six runners on base.
"Kids continue to hit well," said coach Abbas.
The Dalles hits the field again at 8:15 a.m. Thursday against Bend North.
Going into this contest, TD coach Joe Abbas has all his pitchers available.
"The Iron Nine (Jefferson, who only had nine eligible players on the field) played very, very well," Abbas concluded. "Great to see kids close a close game out. Well supported on the sidelines by 9-10's and 11/12 players and families. This kept the players in the game in extremely hot and less than ideal conditions."