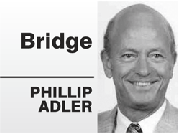 Garry Kasparov, many people's choice as the best chess player ever, said, "Chess helps you to concentrate, improve your logic. It teaches you to play by the rules and take responsibility for your actions, how to problem-solve in an uncertain environment."
Bridge players can relate to that. Interestingly, though, the environment is less certain in bridge, where there are unseen cards, than in chess, where the position of every piece is known.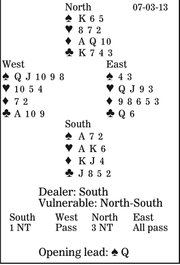 Some chess games feature a sacrifice, purposely losing a piece. This is much less common in bridge, but can be required — as in this deal. South is in three no-trump. West leads the spade queen. What is South's best line of play, and how can East foil that plan?
South, with seven top tricks (two spades, two hearts and three diamonds), must establish two club tricks to get home. The best way to do that is low to dummy's king on the first round. But even if South can succeed, he will lose the lead twice. There is a risk that the defenders will establish and run West's spade suit.
In this situation, with two key-cards to dislodge, declarer usually should duck the first trick.
After taking the second spade in his hand, South plays a club to dummy's king. Now is the key moment. East must realize that if declarer has the club ace, his queen is worthless. He must sacrifice his queen under dummy's king. Here, this gives West two club entries, one to establish his spades and one to cash the winners.
Note that if East retains his club queen, he wins the second club and does not have a spade to lead. Then the contract makes.