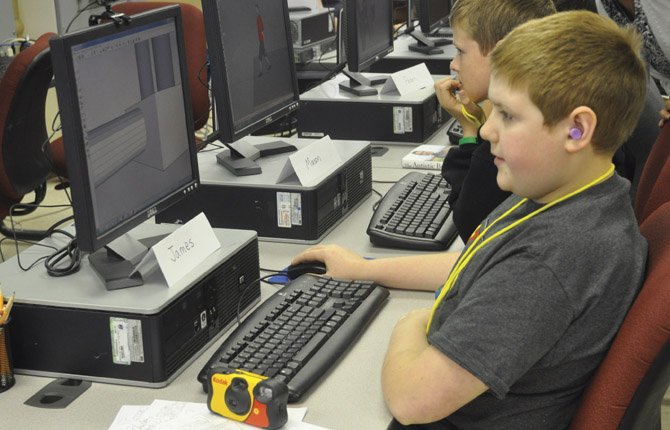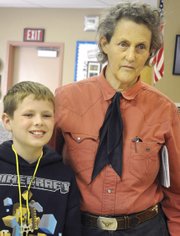 Grandin visits iSTAR program in The Dalles
Temple Grandin visited the iSTAR program while in state for a book signing in Portland. Read more.
Most programs for children on the autism spectrum focus on early intervention, but the iSTAR program, which came to The Dalles last week, helps older students look toward a post-high school career.
The students participating in iSTAR spent a week being trained to use Trimble's SketchUp, a free downloadable computer program that allows people to create designs for three-dimensional objects and buildings. During Friday's capstone event, the students presented one of their SketchUp projects to parents and community members.
"It's fun to see how the students progressed, from the first day when everyone was a little apprehensive about what their parents got them into, and then by Wednesday they were talking with each other and showing up early," said Cheryl Wright of iSTAR.
She said the entire iSTAR team enjoyed working with the "talented young men who have incredible futures ahead of them."
During Friday's presentation, the students presented a variety of projects demonstrating a range of abilities.
Eighth grader Dorian Lovett, who has been doing an apprenticeship with the Oregon Zoo, has been given permission to work on designing a new sloth exhibit for the zoo. He spent much of the week using his knowledge of sloths and zoo habitats to build a detailed sloth exhibit with areas for eating, sleeping, playing and climbing.
"I have a chance to present this to the zoo," he said.
Sixth grader James McIntosh designed a Super Hero Club where his favorite super heroes, along with "Super James," could hang out together.
"It's pretty cute, isn't it?" he said.
Each student was given a certificate that included comments from the staff, and James' certificate said that the iSTAR staff were "blown away by James and his talent in the first five minutes."
Many of the students designed something practical, like a house or office building, but eighth grader Milo Sprague used his to create a more artistic project comprised of a book and a whiteboard.
"This model is supposed to represent that anything can be really interesting to you; you just kind of have to look at it in a certain interesting way," he said.
The book in the model, titled "Taming of the Shrew," was supposed to represent "boringness," Milo said. But when he switched the view on the screen it revealed little people inside the book, aged to show how old the book is. He said "Taming of the Shrew" might seem boring at first, but when he thinks that "Shakespeare is able to talk to us over 400 years later, it's amazing."
On the whiteboard in the model Milo placed a mathematical equation that again looked boring to the average high school student. But when he turned the whiteboard around he revealed that the equation just represented a circle with a radius of five.
"It's important to think about things in different ways," he said.
The staff at iSTAR wrote that Milo was "brilliant in so many ways."
"We really love the way you think and then visually represent those ideas," they said.
The iSTAR program is meant to give youth on the autism spectrum confidence, play to their visual-spatial strengths and train them on a computer program used by professional engineers and designers. Students worked with Steve Gross, a designer for Universal Creative who has used SketchUp to design rides for Universal's theme parks.
The program began as a partnership between University of Utah and Google. Now that SketchUp has been sold to Trimble, Google has continued as a partner. North Wasco County School District 21 superintendent Candy Armstrong said without a grant from Google the district would not have been able to bring iSTAR to The Dalles.
Armstrong also said that without Katy Bowman, a parent of an autistic child, the iSTAR students would never have gotten the opportunity to visit with Temple Grandin, author of "The Autistic Brain" (see related story). Grandin, who has become famous for sharing her insights about what it is like to be on the autism spectrum, agreed to take a detour through The Dalles during her book tour.
She praised the iSTAR program.
"I commend what you're doing. The classes that saved me were the hands-on classes," she said.
North Wasco special education director Jary Snodgrass said this was the first time University of Utah had taken the iSTAR program off campus. He said District 21 received an invitation from Google and Trimble to test the program outside of Utah in part because The Dalles area has an unusually high concentration of autism.
Students from The Dalles, Dufur and Mosier were handpicked to participate based on age, place on the autism spectrum and other criteria that suggested they would be a good fit with the program.
The iSTAR facilitators will be back in the fall to do some follow-up work with participants. In the meantime, the students are encouraged to continue designing on SketchUp and will be able to call upon Gross for mentorship.