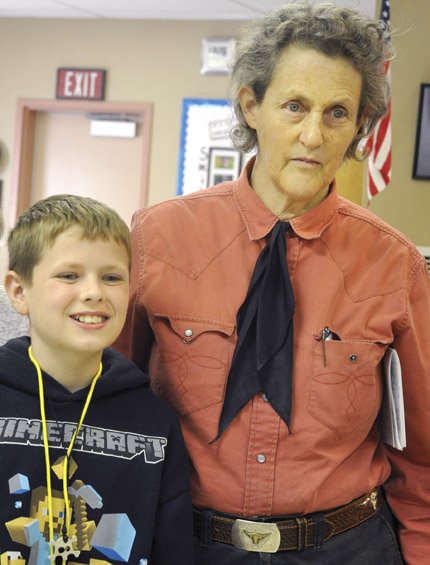 The Dalles — Students and parents participating in the iSTAR program for students on the autism spectrum last week got a visit from a star in the world of autism.
Dr. Temple Grandin is the bestselling author of books like "The Autistic Brain," which share her first-hand insights on what it is like to be on the autism spectrum. She is also an animal science professor at Colorado State University and has been nationally recognized for designing more humane slaughterhouses using her understanding of animal neurology.
In 2010 Time Magazine listed her as one of the top 100 most influential people in the world for her contributions to both autism activism and animal welfare.
Grandin told iSTAR students in The Dalles that she didn't let her diagnosis define her and neither should they.
"I see too many kids becoming their labels," she said. "Kids with autism tend to get fixated on their favorite things, and I would rather have them fixated on 3D printers instead of their autism. I see too many kids come up to me and all they want to talk about is their autism."
She encouraged parents not to coddle their autistic children too much and said that letting their child spend all day in their room playing video games wouldn't lead to the child becoming a productive member of society.
"I just want to see all you guys have good careers," she told the students.
Later at a private reception she expanded on that theme, talking about how her mother would make her do things like order her own food at a restaurant in order to teach her how to appropriately interact with strangers.
"You don't say, 'Timmy has Aspergers so I'll order his hamburger for him,'" she said. "What you do is you go in when it's not busy at all, and ease him into it."
She also said kids — whether autistic or not — need to be taught how to work and accept assignments. She said they will be more likely to successfully enter the adult workforce if they take opportunities to walk the neighbor's dog, have a paper route or do yard work before they are able to get a regular job at 16.

Grandin mentioned that she got teased a lot as a kid, and someone asked what she thought parents could do to help prevent their child from being bullied. Grandin said things got a lot better for her once she started participating in elective classes and activities like horseback riding where she could build relationships with her peers around shared interests.
"Kids who are bad at math, you take them out of band to work more on their math and that's the worst thing you can do … People say 'My kid doesn't have friends.' They need a shared interest. Once kids got to know me they didn't tease me," she said.
It's important, she said, to allow students to play to their strengths in school. Sometimes a student is bad at one subject so people assume that they won't be good in any classes. Grandin said if an 8-year-old who struggles with language arts classes but is quite bright in math is forced to do "baby math" instead of being allowed to work ahead they become bored and then become a behavioral problem in class.
One of the biggest things Grandin emphasized is that there are all different kinds of minds with all different kinds of strengths and people need to stop emphasizing disabilities and start focusing more on what they are good at. She said being on the autism spectrum is a part of her, but being a professor is a bigger part.
Besides, she said, everyone has different strengths and weaknesses.
"There is no black and white line between normal and abnormal," she said.