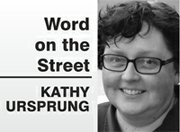 It's not just lemons: Self-improvement guru Dale Carnegie may have been a master of making the best out of a bad situation, coining the phrase, "When life hands you lemons, make lemonade."
The cherry industry, though still hopeful for its late crop, is getting the weather-related equivalent of lemons: split cherries.
So what do you do with split cherries? Ask OSU Wasco County Extension Agent Lauren Kraemer.
Split cherries don't last long, as they can mold quickly, but they can be pitted and frozen to extend preservation time.
"Cherries make excellent jams, juice, chutneys, pickles, even barbecue sauce and are great for dehydrating whole or pureed into fruit leather," Kraemer wrote. "Or just keep them in the freezer until fall when you get a hankering for sweet summer cherries.
Get creative with preserving cherries with instructions from the online OSU Extension publication found here: http://bit.ly/14M01s9.
Future coffee champ? Local coffee roaster, Tami Williamson of Home Town Coffee Roasters in Arlington, has received news that her coffee "Home Town's Blue Ribbon Blend" scored highly in preliminary taste tests and will compete in Salem Aug. 24 in the "Best Coffee In Oregon" competition at the Oregon State Fair.
Thirty coffee roasters from around the state submitted samples and 22 have been chosen to compete for the title "Best Coffee in Oregon Champion."
There are three categories: single variety, signature blend, and espresso. Gold, silver, and bronze awards will also be presented for each category.
Home Town Coffee Roasters was established in June 2012 and is now available in Biggs at Dinty's Market & Deli and The Dalles at Allen's Food Center.
New owners: Canyon Rim Manor Assisted Living in Maupin has changed hands. White River Health & Living Inc., led by Deanna McDowell, originally developed and built the 18,000-square-foot community, which includes 27 assisted living units for senior citizens throughout Wasco County.
The new owner, Maupin Senior Living, LLC, officially took ownership July 1. With new ownership, the community will also see a change of support management services to Seasons Management, headquartered in Lake Oswego.
Seasons manages other senior living communities in New Mexico, Utah and Oregon.
The current team, led by Louise Sargent, will remain in place, as the team has since opening in 2005. No staff changes are expected.
The name will change from Canyon Rim Manor to Canyon Rim Senior Living Community.
Canyon Rim staff welcomes tours at any time.
EV highway and the gorge: The Tuesday, July 9, edition of Green Drinks will focus on current trends and developments that could bring more electric vehicles cruising through the gorge. The event will be hosted at the Gorge Pavilion in Cascade Locks Marine Park from 6:30 to 8:30 p.m.
Gorge Owned (GO!), the Port of Cascade Locks and Green Living Journal host this month's event. Cascade Locks has an EV charging station, which has one Levle 2 charger and one DC fast-charger.
Ashley Horvat with the Oregon Department of Transportation, will talk about the potential ways electric vehicles could boost the state's tourism industry, and Patrick Connor of the Oregon Electric Vehicle Association will talk about the growth of the Electric Highway.
Guests can also check out numerous electric vehicles, including the Tesla Model S, a Chevrolet Volt, a Brammo motorcycle, and a Venus Veepster. Griffith Motors, which sells the Toyota plug-in Prius, will show off what they have for sale or lease (apparently, they can barely keep them in stock). And Ray Schultens, which carries the Nissan Leaf and C-Max Energi Hybrid, will answer questions and bring a car, if one is available.
The event is free and open to the public, but a $5 nonmember donation is suggested.
And speaking of electric: Fred Meyer has a new charging station in its east parking lot so patrons can get a charge and shop at the same time.