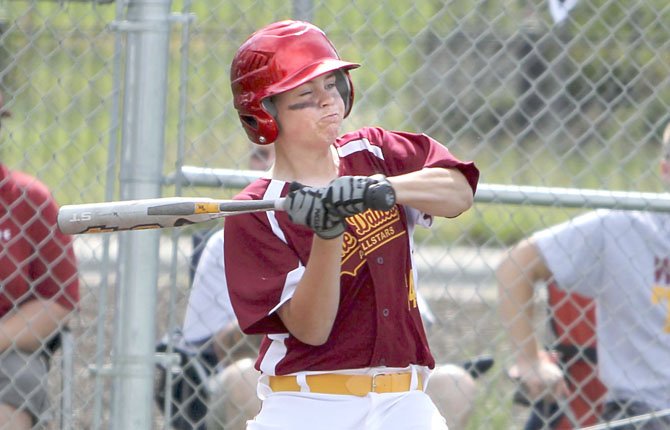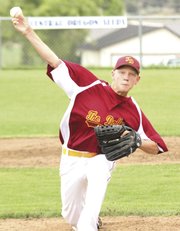 The final strike call took an eternity — a fitting end to a marathon classic duel between 12U little league powerhouses, The Dalles and Bend South.
But, oh the joy of such a call.
Jake Roetcisoender drove in Tyler Vassar for the game-winning RBI single in the seventh inning, Henry Lee tossed 6 2/3 frames of three-hit ball and Caden Mathisen capped the extra inning affair with the game-clinching strikeout to lead The Dalles to a 1-0 semifinal win on the Fourth of July Thursday at Skyview Middle School in Bend.
With Lee maxed out with 85 pitches, TD head coach Dennis Eiesland inserted Mathisen in an attempt to nail down the win.
Bend was certainly capable of taking one swing to even the score, but the TD southpaw used four pitches with a surgeon's precision, as the last toss painted the outside corner for the third strike looking.
Then bedlam ensued.
"They freaked out, as you can imagine," said TD assistant coach Dan Nelson of the celebration. "The gate flew open, we rushed out of the dugout and the kids came running in from the field. The kids mobbed Caden so hard that I was actually worried that they'd hurt him."
The Dalles posted six hits in all, adding a few walks in between, but stranded runners in four of the innings.
With the game going extra frames in a scoreless deadlock, TD used two of those hits for its rally in the top of the seventh.
Vassar's second single of the day started things.
He motored to second base on a passed ball, and then Roetcisoender roped an RBI single to right centerfield and The Dalles inched ahead with a 1-0 lead.
Given the Herculean effort put out by the 5-foot-11 inch Lee, that was all the offense needed.
Using a game plan of working low and hitting the edges of the dish, the right-hander scattered three singles, struck out 11 and walked two Bend South batters.
Lee did not allow a runner to reach until the fourth and retired the side in order four times, using an assist on a 1-2-3 seventh frame.
Bend stranded two runners on base in the fourth inning and had one runner reach in the fifth, but only had one player advance as far as third base.
"I've played against, and with Henry for several years now," Nelson said. "But, today he was magnificent. Everyone did well, but we put a burden on his shoulders and he carried it well."
Nelson said it was an intense matchup with The Dalles coming close to scoring in each inning, but getting a hit or a break was hard to come by.
At one point, The Dalles had the bases loaded with one out in the fourth inning with Lee at the dish and another slugger, Andy Carlock, in the hole, but the game-changing hits did not materialize.
Along with Vassar's two hits, Mathisen stroked a double and the trio of Roetcisoender, Lee and Riley Mills added singles.
For the second straight game, The Dalles engaged in an extra-inning tussle, last winning 8-5 Tuesday against Bend North.
Ben Nelson expressed surprise with the outcome between two teams with high-octane offenses.
Although tense throughout, Isaac Abrams said he loved it.
"Tight game," said Ben Nelson. "Bend South was great. (It was) more of a pitching battle than a hitting battle."
Coming into the tournament, Roetcisoender went into detail about how there were several players on this 12U roster who were playing in their final all-star campaigns, so there was a little sense of urgency.
"(It was) another long one that we stayed in with good pitching," said Jordan Wetmore.
This pitching staff of Lee, Mathisen, Wetmore, Nelson and Roetcisoender has allowed nine runs with 44 strikeouts in 24 total innings played.
It has been a collaborative effort between coach Eiesland and his assistants Junior Lee and Nelson to make sure the pitch counts were low so the arms could be used on consecutive days.
Keeping close tabs on that aspect allowed Henry Lee to amass his 85 pitches on Thursday.
"Junior, Dennis, and I don't agree all the time and my belief is that we shouldn't, or you only get one point of view," coach Nelson said. "Dennis asks our thoughts. We tell him straight up what we think, and then he makes all the hard decisions. "
So far, the formula has worked to perfection.
What it comes down to is finding that middle ground because the goal is to continue past the district rounds in Bend.
After finishing in second place at districts for the past two years, this group has bonded together as a cohesive unit.
Moments after securing another tough win, the team, their parents and coaches spent some quality time at the bowling alley, with strikes and a few gutter balls ruling the night.
The team chemistry is inspiring.
"The kids all like each other," coach Nelson said. "They hang out in the evenings, they all laugh and joke. I have not heard a negative word about another player."
The Dalles plays again at 8:30 a.m. Saturday versus the winner of Friday's consolation game between Hermiston and Bend South.