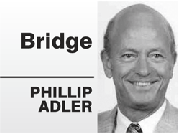 Mogens Jallberg from Denmark said, "In democracy, it's your vote that counts. In feudalism, it's your Count that votes."
The more that bridge players count, the better they will play. In yesterday's deal, declarer placed the missing high-card points by referring to the bidding. Today, let's show a defender doing it to advantage.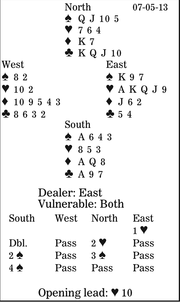 East is defending against four spades, and West leads the heart 10. What should East do?
There are several important points in the bidding. Some players sitting East would add a point for the five-card suit and open one no-trump. But you should strive to find a reason not to open one no-trump when you have a five-card major. Here, having no minor-suit stopper is an excellent reason.
South does not like to make a takeout double with 4-3-3-3 distribution, but his hand is a tad too strong to pass. North's cue-bid shows 12-plus points.
East wins with the heart jack, cashes the ace, and takes the king, West discarding, say, the diamond three. What should East do next?
If West had a minor-suit ace, he should have ruffed the third heart and cashed it (or discarded an encouraging card in that suit). So the defenders are not getting a minor-suit trick. East must try for a trump trick by leading another heart.
Here, when West ruffs with the spade eight and dummy overruffs with the 10, suddenly East gains a trump trick. It is a textbook uppercut.