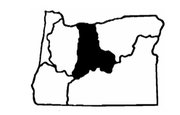 CENTRAL ZONE VIEWING
Crook County
The Prineville Reservoir Wildlife Management Area (WMA) North shore road is open to motorized traffic. The WMA offers camping, shoreline angling and opportunities to see a wide variety of wildlife, including deer, coyotes, otter, beaver, raptors, shorebirds and waterfowl. As Prineville Reservoir draws down it is exposing mud flats and leaving shallow flooded wetlands making for excellent bird viewing. Maps of the wildlife area are available at the Prineville ODFW office and at Prineville Reservoir State Park office.
Resident nesting species such as mallards, gadwall and cinnamon teal are still numerous, but will be harder to locate as females will be busy tending nests and broods. American wigeon, shoveler, green-winged teal, Northern pintail and wood duck can still be seen, but are less common as most have migrated through. Numerous Canada goose broods have been seen and can be found throughout Crook County, but are becoming hard to distinguish from adults.
Other waterbirds that have been seen include American avocets, black-necked stilts and killdeer. Western, Clark's, pied billed and eared grebes, American white pelicans, double-crested comorants, great blue herons, Caspian terns and a variety of gull species can also be seen around Prineville and Ochoco reservoirs.
Common passerine species observed throughout Crook county this time of year include red-winged and brewers blackbirds, western kingbirds, American and lesser goldfinches, house finches, mountain bluebirds, spotted towhees, Northern orioles, cedar waxwings.andtree, cliff and barn swallows.
Raptors can be found throughout the area. Red-tailed, ferruginous hawks, northern harriers, kestrels, prairie falcons and golden eagles can be found throughout Crook County and are usually associated more closely with open/agricultural areas. Bald eagles and osprey can be found associated with water bodies.
Most Antelope fawns were born in late May. Fawn mule deer and calf elk were born by early June. They should become more visible as young are starting to travel with mothers.

Young of any species should be left alone. Do not try to catch baby birds or mammals because you think they are abandoned. Young are rarely abandoned by their parent, if you leave the area the mother will return to care for her young. 7/1/13.
Deschutes County
At this time of year, warmer weather conditions in the high desert can make viewing wildlife challenging during the day. Birds are much more active in the early morning hours. Many mammals will find a shady bush, hollow tree, burrow, or safe rocky area to escape the heat of the day, becoming most active in the mornings and evenings. Even reptiles that require the sun to bring their bodies up to "working temperature" to hunt and digest prey will keep out of the sun for much of the day, again being most active in the early morning and evenings. Some species, such as rattlesnakes, may remain active all night during the hottest periods of the year. However, if you are out and about when it's hot, the best places to see the greatest variety of wildlife are wetlands, lakes and rivers with robust riparian and emergent vegetation. This is generally true at any time of the year, but especially so when the temperatures heat up and wildlife in drier habitats change their activity patterns to avoid extreme temperatures. Excellent places to visit and increase your chance of seeing wildlife during the day include any of the Cascade lakes and reservoirs, such as Wickiup, Davis, Elk, and Crane Prairie. Lower elevation sites include Smith Rock State Park at Terrebonne, and the Deschutes River, especially in areas that have off river ponds such as those found on the west side of the river near Slough Camp Ground.

07/02/13
Wasco and Sherman counties
Osprey can be seen nesting along the Columbia River, as well as swallows.
The Lower Deschutes River provides ample wildlife viewing opportunities. California Bighorn Sheep are frequently observed in the canyon and can provide fantastic viewing this time of year. The best spot to view sheep is from the BLM access road just downstream and across the river from Sherar's Falls (along Hwy 216).
Other wildlife that may be seen along the river include black-taildeer, red-tailed hawks, American kestrels, Osprey, and Golden and Bald eagles. Waterfowl are commonly observed on the river, and visitors can usually see many different songbirds and upland game birds that also call the canyon home.
Gulls are nesting on the east end of Miller Island, upstream from the mouth of the Deschutes.
3/19/13.