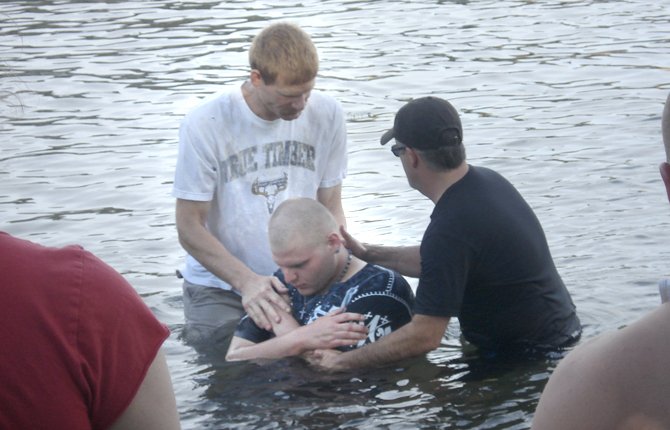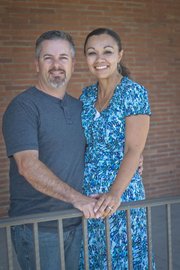 Robert Friel likes to joke that anybody with a tattoo is automatically a member of his church.
He and his wife, Marlene, started The Dalles Vineyard Christian Fellowship out of their home in September 2010.
Their ministry is aimed at those who are unchurched, and, without trying, they seem to draw people who are in recovery from addiction.
"We want to build a church with people who don't like church," he said.
They outgrew their home about a year ago, and now meet at the Wahtonka campus on Tuesday nights. Starting Sept. 8, they'll move meetings to Sundays. They rent the cafeteria and other rooms for $25 an hour.
Attendance ranges from 30 to 50 people.
One recent Tuesday, members of the congregation were visiting outside the school, and a police officer pulled into the parking lot to check it out, wondering if something was going down.
Friel chatted briefly with the officer, who was soon on his way. Some members of the congregation may have a certain look to them. But Friel said, "The thing is, they come because they don't feel judged. They feel they can come and be themselves, they can have tattoos, they can have piercing … whether they smoke, or just got out of jail, they feel accepted."
"They don't need to clean up their act before they come," Marlene said.
Though neither of the Friels ever had drug issues themselves, they feel drawn to help those who do. While others might tell those with drug addictions what to do, the Friels instead ask how they can help.
Friel said the Vineyard church is seeing healings in the form of the breaking of addiction, even sometimes without going through the pain of withdrawal.
The withdrawal from heroin is horrible, and meth is even worse, he has learned. Friel said it is becoming more of the norm than the exception for people in the church to be healed of their addictions.
And if they relapse, that's OK. They're still welcome at the church, and many of them do return. Friel said they've also "seen many of them never go back to drugs."
Marlene said the church is growing by word of mouth. "I hear [people say] 'You go there, you will be healed. You will be changed.' It's not about any power we have, it's about the presence of the Lord."
Robert said they are ministering to people who "are so tired of being in a cycle of crisis."
Earlier this week, Friel had his first public baptism for church members at Klindt Cove. A Chronicle reporter happened to be there to witness it.
Baptism represents "just starting a new life with Christ," Friel said. "The old stays under the water and when you come out you start a new life, with Christ. You're committing your life and it's kind of a public display that you're committing a life to the Lord, to Jesus."
Eight people were dunked backwards in the chilly water, after telling the enthusiastic crowd why they were being baptized.
Matt Siemens spoke at length, saying, "I'm real blessed with what God has done with my life. When I came here, I was on my death bed. I was doing heroin and crystal meth … It's amazing the transformation I've seen in my life and also in the lives I've been able to touch so far.
"This represents a totally new start for me."
Cody Leatherbury said, "I've known about the Lord my whole life… but today I come here from Michigan and I'm in a new place … this is my commitment to God, saying I'm not backing down, no wish-wash anymore, real commitment."
Cody's sister, Angie Leatherbury, could hardly contain her excitement as she rushed into the water. She briefly explained that it represented a "new beginning for me and God's been doing a lot of things." Then she said, "OK, can you dunk me now?"
Alana Seidel said, "I'm excited for the plans that God has in my life" and Derek Winter said he'd lived a sinful life since he was a kid. "Drug addiction took over, and I finally accepted God in my life … Just surrender fully to God."
Danyelle Drynan said she was wishing to be baptized "because I love Jesus." She said she was "finally at a place where I can accept God into my life without any exceptions."
Josh Al-Jaouni said, "My public declaration to everybody: I'm turning my life over to Christ. It's time to be reborn."
McKencze Mullins said, "I've had a lot of blessings from God and I've been able to give a lot of blessings back to people."
The Friels have seen other changes in behavior as well. Marlene recounted one congregant recently said, "I don't feel like I want to curse anymore."
Friel said he works hard to make faith understandable. If someone uses a term specific to the faith that others might not understand, he asks them to explain it.
Marlene said, "It's the way Jesus spoke. He spoke in parables because that's what they were familiar with. He spoke to the working class. To fishermen and farmers. He didn't speak in the religious language of the day. And yet the message was still true."
Friel, who is an electrical contractor with his own business, also has a theology degree and has worked in several capacities in area churches, including as a youth pastor.
He and Marlene, a pre-school teacher, attend Hood River Vineyard and their own group in The Dalles is a branch of that church.