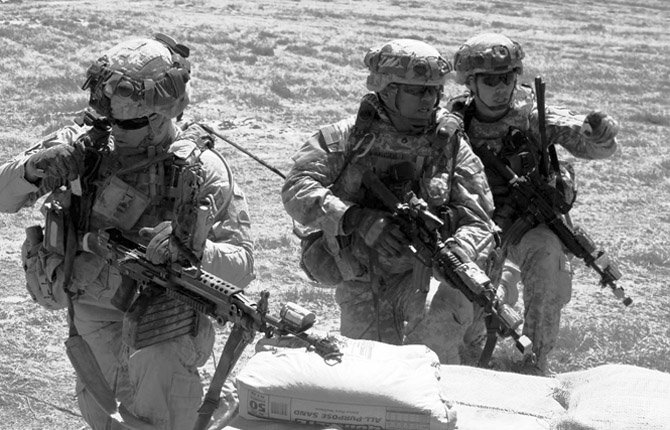 OCHARD COMBAT TRAINING CENTER, Idaho — Top leaders of Oregon's largest Guard unit are counting on a deep pool of experience to help the outfit succeed as it prepares to be one of the last American military units to deploy to Afghanistan next year.
The entire 41st Infantry Brigade Combat Team – more than 3,000 Guardsmen that attend armories across the arc of western, southern and central Oregon – is now conducting intensive training in the high- desert south of Boise as part of its summer annual training cycle.
Yet this year's annual training program is underscored by the combat deployment that looms on the horizon.
"This is the last annual training period before we mobilize. It is as week longer this year because of the deployment," said Col. Kevin Sheehy, the deputy commander of the brigade.
Sheehy said the 41st Infantry Brigade Combat Team (IBCT) is already a battle-tested force, and that experience should pay off down the road if the unit deploys overseas.
"Because of the past 10 years of Guard deployments there are a high number of combat vets in this brigade," he said.
During a decade of war, the 41st IBCT deployed overseas three times. Twice to Iraq and once to Afghanistan. The brigade returned from its last deployment – to Iraq – in 2010.
"Even though we are doing a lot of new things, we have a lot of guys with experience," Lt. Col. Scott Hildebrandt, of Turner, Ore., operations officer for the brigade, said.
For the past week the brigade has been stretched across the remote, rugged Orchard Combat Training Center on the Idaho desert conducting an array of training exercises geared to prepare the outfit for another combat tour.
Sheehy said the scope of the training is diverse because the brigade may be called on to complete a number of different tasks while overseas.
"The training is multi-tiered because we may do garrison duty. Or we may act as security forces or conduct airfield security or protect convoys," Sheehy, of Union Ore., said.
While based around an infantry core, the brigade also showcases a host of other military specialties, Sheehy said.
The 41st IBCT consists of Oregonians from nearly every town in the state. The brigade's Guardsmen attend armories in 18 different towns and cities in western, central and southern Oregon.
A good share of those Guardsmen already endured multiple combat deployments.
Spc. Kayleb Savage, 25, of Roseburg Ore., is a good case in point. Savage, who deployed to Iraq in 2009-2010 with the brigade, said he is looking forward to another deployment.
"It's what we train to do," he said.
Savage – a member of Roseburg's Charlie Company, 1st Battalion, 186th Infantry Regiment - said he feels a deployment is just part of the job.
"I'm a soldier and infantryman. I'd go tomorrow if they said I could," Savage said.
Pfc. Camren May, 18, said on one hand he is eager to deploy with his fellow Guardsmen but he admitted he doesn't relish the idea of being away from his family.
"I have mixed feelings. I want to go. My parents will support me if I have to go but they'd rather not see me in harm's way," May said.
May, who is also a member of Roseburg's Charlie Company, said the bond that exists between Guardsmen in his platoon and the depth of experience will be a key element to success overseas.
"Everyone is super close. And everyone knows what they are doing," he said.
May stands out because unlike a lot of his fellow Guardsmen he has not deployed before. The Roseburg resident said he joined the Guard for college money and because he wanted to do his part for his country.
"I love my country," he said.
The second in command of the brigade's 1st Battalion, 186th Infantry, Maj. Paul Dyer, already spent a year on a combat tour in Afghanistan. Dryer conceded the deep pool of experience that exists in the brigade should pay dividends. He also said the on-going training on the desert south of the Gem State's capital is critical and authentic
"The training is long and very realistic. From my experience in Afghanistan it is very realistic," Dyer, of Monroe, Ore., said.
The commander of the brigade, Col. William J. Edwards, said the proficiency of the Guardsmen in the unit may be the critical factor when it deploys.
"I think it will make a key difference," he said.