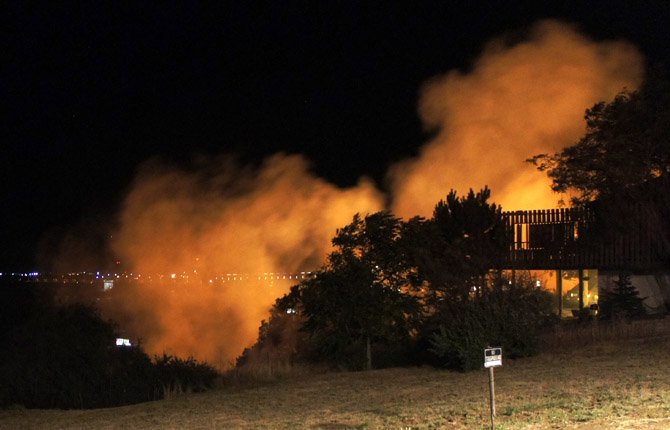 A grass fire crept close to homes on Old Dufur Road late Thursday evening, July 4, but firefighters held the blaze at bay mere feet from some structures.
"Several houses were threatened," said Capt. Fred Coleman, of Mid-Columbia Fire and Rescue, as the fire burned up the slope. "There was no time for evacuation, so we fought the fire with the people in place."
Mutual aid came from Dallesport, the Oregon Department of Forestry, the U.S. Forest Service Scenic area, Dufur, and from Hood River's Immediate Structure Task Force, which drew five pieces of apparatus to the area.
The fire was reported at about 10:50 p.m.
"It was wind-driven uphill and that's one of the most dangerous and most volatile situations to be in," Coleman said.
The Mid-Columbia had been under a red flag warning since Tuesday, indicating extreme fire danger from hot, dry and windy conditions. The warning was in effect until midnight last night.
The fire was estimated to have burned four or five acres.
Reporter RaeLynn Ricarte's residence was perhaps closest to the flames, which burned away portions of an evergreen tree less than 10 feet from the house's deck.
"There was so much smoke I couldn't even be down here last night," Ricarte said. "I'm trying to air it out today. It's smells like I'm living in a campfire."
Wisps of smoke were still drifting through the air this morning near the torched tree.
"The firemen just stationed themselves where the fire first started and kept water on it to keep it away from the house," Ricarte said. "I stood on the street and the smoke was so thick I was hacking and coughing. There were embers everywhere."
Coleman said cause of the blaze remains under investigation but neighbors reported that flying fireworks were being set off nearby.
Major Creek fire 40 percent contained
Meanwhile, firefighters gained ground on the 150-acre Major Creek fire just west of Lyle just west of the Catherine Creek trail system.
The fire started around 3 p.m. July 3 and was 40 percent contained by 6 p.m. Thursday. Despite very windy conditions, firefighters made good progress preventing the fire from growing, extinguishing persistent hot spots (mop-up) and constructing and reinforcing fire lines.
"Yesterday was a good test of our lines; everything held," said Stan Hinatsu of the U.S. Forest Service. "Nothing popped out on us. Actually, things looked pretty quiet with regard to actual fire behavior. The footprint hasn't grown since the evening of July 3."
Hinatsu said firefighters could see 100 percent containment by the end of the day today (June 5).
Resources used on the fire included four crews, two strike teams, 10 engines and two helicopters, which probably won't be working the fire today, but are on standby. A total of 122 people are working on the fire, but Hinatsu said some could begin to be pulled away today in response to other regional fires.
"Obviously, it's very dry," he said. "We're early in the season and we've got a long ways to go, so be careful."