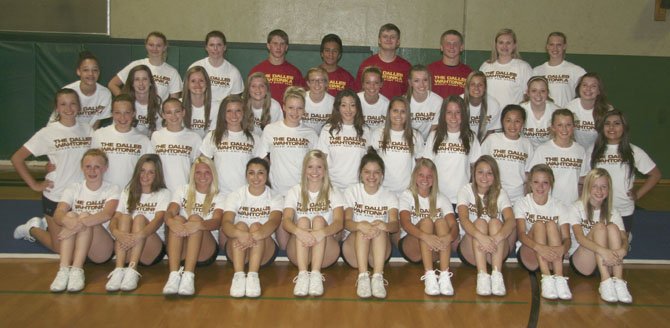 TDW head coach Kristi Maley announced an update of her 2013-2014 cheer and dance team roster where there is good mix of fresh-faced newcomers and varsity veterans – 41 members overall.
While most high school students take vacations, hang out and text friends, the dance and cheer team is fine-tuning routines, shuffling around and getting in optimum shape for the new sports year.
That work is never done for this group – there are several hours spent in the gym, in outside classes and at home.

This tryout phase lasts four days, before coach Maley makes her selections, so it is tough on the nerves for some.
Then the work begins. Practices start by the end of June in daily doubles with some dancing sprinkled in as they prepare for fall sports in September and then the hoops campaign in November.

By the turn of the New Year and the spring season in March, several members cash in their pom-poms for dance gear.
During the year, these athletes become close through team bonding exercises, so they get to know each other to establish continuity.
In practice, Maley teaches the dances and they also have good seniors help out the younger kids to ensure everyone is on the same page.
It is critical because during routines, all of the members have to look the same, all have to dance the same and make sure they are all synchronized.
There are also those who believe cheer and dance is not a sport. Added to their vast list of requirements, cheer members still need to run, lift weights and maintain a strict diet to keep the engine running at an optimum rate.
Many of the top cheer members know all too well the amount of nicks, bruises, welts, sprains, divots, breaks and gashes her and her teammates endure through a calendar year.

Still, the show must go on and the smiles need to shine brighter every day. It is a daunting mix of time and energy, overcoming illness and pain for the thrill of it all.

The sport requires a lot of time in front of a mirror at home trying to improve, working on their craft with additional instructional classes to help the team become better on all fronts.
Once the bright lights of the gym and stadium flick on, there is no bigger rush of energy as these athletes shout from the gut for the crimson and gold.
Maley also announced that with a pair of critical fundraisers this summer, a car wash and a two-day rummage sale last week, the team made $2,314 on the car wash and $2,978 on the yard sale for a total amount of $5,292 to help offset the costs for uniforms, camps and other needs.
"We would like to thank the community for all of its support," Maley said. "(I) hope to see everyone come out in the fall to watch the football games."
To donate to the program,send an email to kristi.maley@gmail.com.