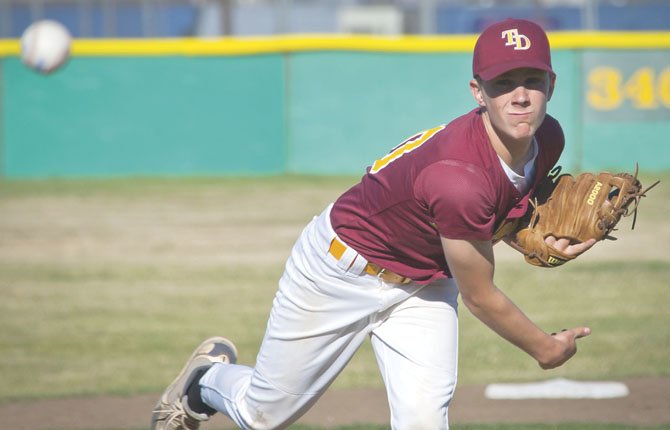 With his lineup further solidified with the inclusion of Dawson Reynier, The Dalles 15U Babe Ruth All Star coach Matt McCall sees his group coming together well as the state playoffs approach.
TD rapped out 13 hits, received seven walks and the trio of pitchers in Colton Walker, Reynier and Bryce Larson combined to give up five hits with six strikeouts in a 20-6 drubbing of Clackamas Friday in baseball action at Kramer Field.
The win moved TD one win closer to chalking up a No. 1 seed in the upcoming state tournament to be played from July 17-20 in Baker City.
"It is nice to have Dawson on this team. He solidifies a lot of things for us," coach McCall said. "He anchors our middle infield, which was a concern for us, but not only that, he is one of our best pitchers. We definitely like having him on this baseball team."
The Dalles used the first three innings to impose its will on a struggling Clackamas pitching staff.
After a five-run outburst in the bottom of the first innings, The Dalles padded that lead with eight runs in the second.
Payton Eaton had two RBIs and Reynier drove in three. Devin Wilson had an RBI walk and three other runs scored on errors.
After 11 batters went to the plate in a 15-minute span, The Dalles held a healthy 13-1 lead.
Clackamas crept closer with three unearned runs in the top of the third to make it 13-4, but then The Dalles added the knockout blow with six runs on three hits, three walks and two Clackamas errors.
Alex McCall had a two-run single to bring in Kellen Mathisen and Taeton Harrington to run the count up to 16-4.
Wilson then scampered home on a wild pitch, Eaton laced an RBI double to center to plate McCall and Eaton capped the frame by scoring on an error, as TD swelled the lead to 19-4.
"We had a good start to this game. We play better when we play like we did in the first couple of innings," Mathisen said. "If we can play like this at state, then I don't think there is any team that can beat us."
Reynier, who pitched two innings of relief with four strikeouts, had a perfect day at the dish going 4 for 4 with four RBIs and two runs scored.
Eaton tacked on three hits, two of them doubles and he drove in three and crossed home twice.
Wilson, Alex McCall and Matt Strizich went a combined 5 for 12 with two walks, seven runs and seven RBIs.
"I thought we swung the bats really good today. We had some nice hits and took advantage of our chances," Larson said. "I think we can hit the ball better than a lot of teams. It is nice to see us hitting so good right before state."
Coach McCall said it has been a challenge this summer getting a complete team to practice due to work and other engagements, but now that the stakes are raised with an upcoming tournament, there is a lot more flow to the game.
He sees more continuity and chemistry on the diamond, which could bode well in the postseason.
"I feel that we are coming together more," coach McCall said. "We get along great and we do a good job of motivating each other. This is a team. There is no other group of kids that I would rather coach."
Most of this group played in last season's Babe Ruth Regional Tournament last summer in The Dalles, so there is big-game experience throughout the roster.
Although they did not advance past the title game, Eaton said so much was learned from not winning it all.
"It taught us that we have to want more out of it all," Eaton said. "We know we need to play harder and be better as a player and as a team. I think we are a lot better than last year's team. If we make some of our weaknesses like infield defense and pitching our strongest areas, we will win."
The Dalles All Stars play again at 5:30 p.m. this Sunday in Clackamas.
If Clackamas wins the second game, the top-seed tiebreaker will come down to scoring differential.