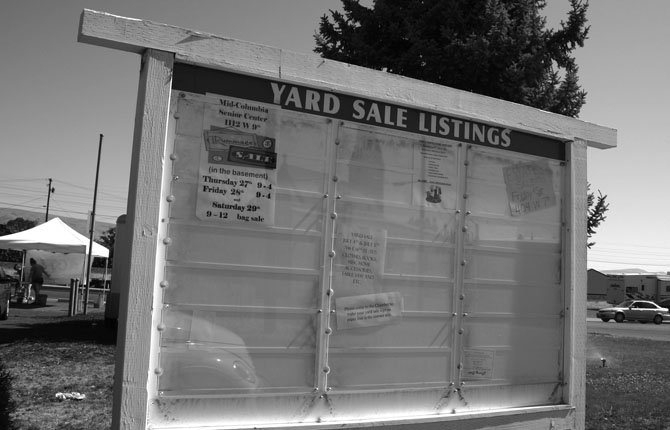 A sign in The Chronicle's lunch room (and very likely many more) says "Your mother doesn't work here," a gentle reminder that those who make a mess should clean up after themselves.
That's not just a good lunch room maxim, it speaks to a basic principle that should guide anyone living within a community: Treat your community and the people in it the way you would like to be treated.
Failure to live up to that basic rule of life simply invites a top-down approach to problem-solving.
If neighbors can't resolve their own difficulties, it opens the door for government involvement.
That's what happened in 2011 and 2012. People running yard sales were blocking pedestrian rights of way with signs, posting them without permission on private property, and failing to remove the signs when their sales were over, creating a lingering litter problem.
Led by then-Mayor Jim Wilcox, who bemoaned the "Dogpatch" effect of the signs, the city council embarked on a mission to toughen up the laws where yard sale signs are concerned. They were set to enact a new law until community members pushed back, telling the council they wanted to keep the right to post their signs.
After months of debate, the council backed away from that particular enforcement plan, opting instead to to erect three large signboards where yard sale holders can post their signs without the trouble of rounding up a large carton to post them on and a brick or big rock to weigh them down.
The signboards are easy to find and centrally located at Mid-Columbia Senior Center, St. Vincent de Paul and The Dalles Area Chamber of Commerce — well-trafficked areas just a skip from cluttered yard sale corners.
Because they are located within parking lots, there's no longer any need to idle in the middle of the street and delay other drivers while writing down yard sale locations.
Another good thing is that the organizations where the signboards are located have agreed to clean them up weekly, to avoid outdated information and litter blowing around the neighborhood.
And yet yard sale signs continue to accumulate at the common street corners and impede foot and motor traffic. They continue to be placed on private property without permission.
To this day, the opinion remains mixed about the need for special yard sale sign measures — even within the Chronicle offices.
Some feel there wasn't a problem in the first place: Yard sale signs are a common sight in almost every community; they speak to small-town Americana.
Others feel the yard sale signboards are a good compromise solution that can help avoid the need for enforcement action, and limit traffic and littering problems. They're a good-neighbor approach that can help sidestep contentious, time-gobbling public debates.
If sign corner neighbors don't have related litter or traffic problems to contend with, they can be more content — or find another topic to complain about.
Whether you agree or disagree with their necessity, the signsboards are there and available now. Using them would be the neighborly thing to do.