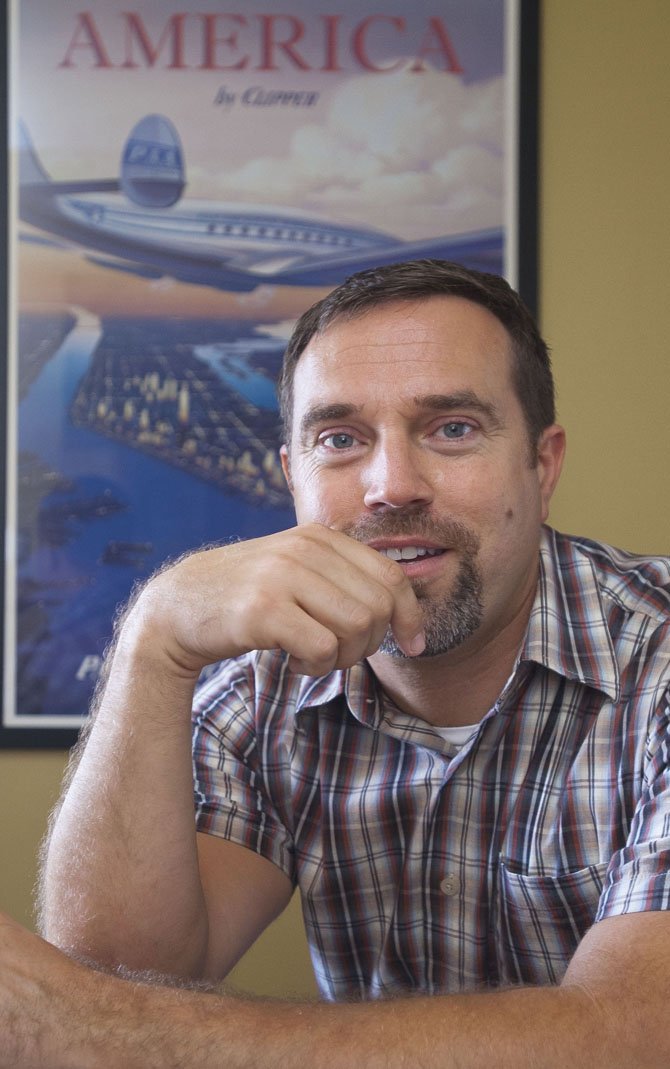 A broken biscotti was making the passenger unhappy, but flight attendant Erik Carlson knew just what to do.
Virtually all the biscotti on any given flight were broken, so when the businessman next to that passenger also asked for biscotti, it was basically a fluke that the individually wrapped, long, thin cookie Carlson handed him was intact.
The first passenger immediately complained: "Why did you give him a whole one and you gave me a broken one?" Carlson recounted.
"So I took the whole one back and snapped it and said, 'There you go.'"
It was a spontaneous thing, and Carlson, with his ready sense of humor, did it with a smile. It drew laughs, and smoothed over a grumpy situation. Just another day in the life of a flight attendant.
Carlson, 42, of The Dalles, recently recounted his eight and a half years as a flight attendant for a major airline.
He had been a Christian Science reading room librarian for seven years in Los Angeles when his position was eliminated in 2003.
"I've always loved aviation," said Carlson, who is a private pilot.
So when a flight attendant friend who'd just lost a job at American Airlines applied at jetBlue Airways, which at the time was a new airline, Carlson applied too, and got hired.
He said the first interview was creative, a group interview that tested how candidates interacted with other people.
While passengers typically only see the service side of being a flight attendant, the bulk of training is on aircraft cabin safety.
They learned CPR and first aid, how to conduct evacuations, how to fight various types of fires, what to do in the case of a cabin decompression, where the safety equipment is and how to use it and how to identify hazardous materials and what to do in a ditching, which is a water landing.
They were trained on operating the doors of each type of aircraft jetBlue flew, and how to arm and disarm the slides that deploy when the door is opened in emergency mode.
"When I went through training it was just a picture of the door taped to the wall. Now it's a cabin trainer, which is a simulator that's on hydraulics," he said.
For all the safety training, the only scary incident that ever happened to him was when lightning hit the aircraft as it was approaching San Francisco.
"There was a loud bang" and then "a collective gasp, but people stayed pretty calm, actually."
The thing passengers worry most about is turbulence — which rarely gets severe, because pilots avoid severe weather. To flight attendants it's merely a hassle, "because your drinks are spilling or whatever."
Carlson, an upbeat, positive person, stressed that he loved his job, and the vast majority of customers were nice and fun to work with.
Only once did he get the classic "Do you know who I am?" line from an indignant woman. He didn't, in fact, know who she was, "or care, really."
She was refusing to allow the person in front of her to recline their seat, although she had fully reclined hers.
The more typical scofflaws would be the people lighting up in the bathroom, or those who refused to turn off their cell phones, or had too much to drink.
He used to get irritated when he'd try to take drink orders and people wearing headsets ignored him. "They'd go like, 'What? What?' and you'd be [thinking], 'Take your headset off!'"
But now that he's a passenger himself, he realizes he does get engrossed in what he's watching with his headsets on, and "I don't notice the person is standing there."
Those minor irritations aside, Carlson said, "I've always joked that being a flight attendant is just like being a rock star, but without the riches or the fame, because I've compared notes."
Once, he sat next to a well-known backup singer who had toured "with all the big names." They started talking about life on the road.
The similarities were many: "Things like waking up not knowing where you are; what coast you are on; what time zone you are in; putting your hotel room key into the wrong door because that was last night's room; or walking into the closet in the dark because last night that was the bathroom."
Flight attendants even get the VIP treatment on a layover. A van is waiting to take them to their motel.
"Your hotel room's ready for you when you arrive."
Flight attendants also got to skip to the front of the lines at security, which always made the person they cut in front of mad, he said. Nowadays, they skip security altogether.
Flight attendants don't have regular routes — a common question from passengers — but they do bid for routes and the slots are awarded strictly on seniority.
Two things guide bidding choices: making as much money as possible, or having as much fun at cool layovers as possible.
Carlson had done both. When he was in money-maximizing mode, he had a punishing schedule of six straight days of what's called a transcontinental turn, "where you fly across the country and back in one day."
"Customers couldn't comprehend us telling them that we're doing a transcon turn. We would start in Boston in the morning and we'd fly to LA. And I'd say, 'This is a turn for us and we're going back to Boston.' They'd say, 'Oh, that's nice. Where are you staying in LA?' And I'd say, 'Oh no, after we're dropping you guys off, we're going back.' And their jaws would drop."
He did that once he moved to The Dalles, so he could get all his work done quickly and then have three weeks off. He commuted to work in Boston.
Today, flight attendants come in all shapes, sizes and ages. At 6-foot-3, Carlson was one inch too tall for American Airlines when he interviewed with them in the 1990s.
But his height was a definite advantage with what is easily the most stressful part of the job: the rush to get all the passengers seated and the carry-ons to fit in the overhead bins. "One of my colleagues used to call that Overhead-Bin Tetris," after the video game Tetris, which calls for quickly stacking varying shapes.
"The pressure to get out on time, that's the reason you see flight attendants turning and twisting bags and shoving them in. [They're thinking] 'I've got to get all this stuff that seemingly, specifically, won't fit — I've got to make it fit.'"
But once the bags were stowed, the fun began. Carlson would often do the safety announcement, and once, two other flight attendants got him laughing.
"I could barely make it through that demo." He had to stop several times, "and at the end of it, everyone erupted in applause."
Another fun game they'd have was to pick a word of the day — say, conundrum — and work it into as much of their announcements and conversations as they could. The alert passengers would find a way to repeat the word back to them.
Being a flight attendant was "a kick," Carlson said. He was grateful to work for jetBlue, which he said was a wonderful employer, and said he misses the camaraderie the most.
But he quit two years ago as his work as a Christian Science practitioner began to pick up.
A practitioner is a healer who prays with and for a patient to bring about physical healing and they also address relationship and financial difficulties.
He was getting more and more calls for his practice, "and it requires me to be available by phone and I couldn't do that if I was always on the airplane."
But now, as he flies as a passenger, "I'll see my friends in their uniforms and I'm really proud. It was really a privilege to be a part of that company. It feels like an elite job, you know?"