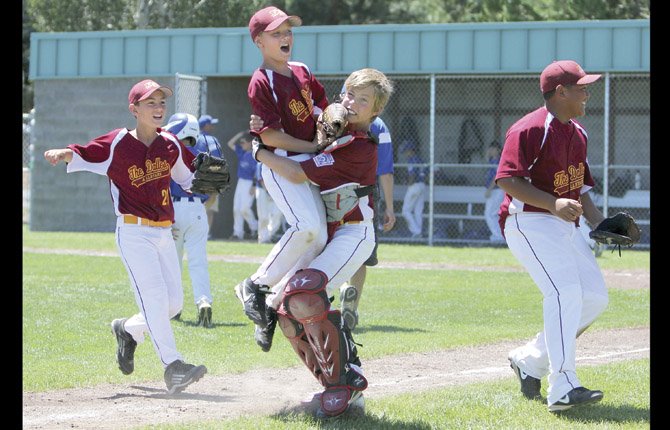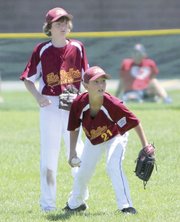 In an emotional battle Friday between The Dalles and Bend South, there were four game stoppages, including a 23-minute delay in the top of the sixth inning.
But when the dust settled, TD's 11U Little League All Stars came away with a dramatic 4-2 victory to punch a championship ticket in Bend.
Ace reliever Josh Johnson was thrust into the pressure cooker once again, but he came out no worse for the wear.
It took a team effort under the scorching suns to keep the season going.
"Hitting was good. Pitching was good. Our team has been in really good spirits," Johnson said. "We cut down on our errors, worked together as a team and brought hot bats. This group has come a long way and bonded like brothers."
Up by a 4-2 margin, The Dalles sent Johnson to the hill in a relief role to slam the door shut.
The right-hander retired the first batter on a popup to Dalles Seufalemua at first base.
Johnson then issued a free pass and plunked the next batter to put the tying runs on base.
With the pressure on and both sides of the cheering sections going crazy, Bend South's next hitter hit a hot shot to TD second baseman Ben Schanno.
He scooped up the loose ball and then crawled to second base with ball in hand and tagged second base with his glove for the force out.
Both umpires called the runner out, but the Bend South brain trust appealed the play, saying the fielder needs to tag the base with ball in glove.
Time was called and the players were ushered to their respective dugouts while the umpires made a call to the Little League's Chief Tournament Official for rules clarification.
Time ticked away for more than 20 minutes, but after deliberation, the call stood as an out at second base.
"Bend appealed it, which worried me," Schanno said. "I worried when we had to wait while the protest was investigated. Then, I was relieved and jumping up and down when the call stood."
Bend South still had runners on the corners with two outs, down by two runs and a big bat upcoming.
Johnson dug in on the mound and went toe-to-toe with the next hitter.
The TD ace won this showdown, as he induced a game-ending fielder's choice, with Schanno fielding a groundball and racing to second base for the final force out.
Way before the high drama at the end of the game, The Dalles shrugged off Thursday's lopsided loss and had the bats going in the opening frame.
With one out, Sam Thalhofer kicked things off with a triple to deep right field.
After a walk to Seufalemua, Bend South changed pitchers to try to wiggle out of this jam.
With Dominic Smith at the dish, Seufalemua got on his horses for a stolen base attempt.
On the throw towards second base, Thalhofer made a mad dash home and slid in safely ahead of the tag to give The Dalles a 1-0 lead.
Smith then cashed in Seufalemua with an RBI single to center to run the count up to 2-0.
Mac Abbas capped the scoring binge with an RBI double to left to bring in Smith and make it 3-0.
Starting pitcher Zach Anderson, who posted three strikeouts in the top of the first inning, held Bend South scoreless in the second, third and fourth frames to hold up the three-run cushion.
In that three-inning span, Anderson fanned three and stranded four Bend base runners.
He also had a little help from his friends in the top of the fourth, as Smith snared a liner at third base and doubled up the runner at first with a toss to Seufalemua for a double play.
Anderson said it felt good to see this team come off the field winners in this nip-and-tuck battle, adding he was able to key on throwing strikes against a tough Bend lineup.
"Boys played together," said TD manager Joe Abbas. "Very first hit of the game, we had an error and it didn't stop us today. Defense was great. Pitching was almost perfect."
TD added an important insurance run in the home half of the fourth.
Mike Armstrong led off with a double and one out later, Seufalemua reached on an infield single to put runners on the corners.
Smith then cashed in Armstrong with an RBI single to make the score, 4-0.
Bend finally broke through with two runs in the top of the fifth inning on three hits and a walk, but Seufalemua escaped the jam using back-to-back strikeouts with the tying runs on base.
"A lot of kids played very well and never quit after our last outing," said assistant coach Chris Schanno. "Today, the kids brought their gloves and it won the game for us with good smart plays. We got some timely hits and scored just enough runs to win."
In all, The Dalles had 10 hits, three walks and a hit batter, but left 10 runners on base.
The 2-3-4 hitters in the order, Thalhofer, Seufalemua and Smith went a combined 5 for 10 with two RBIs, three runs, two stolen bases and two walks.
Abbas doubled, stole a base, drove in a run and a pitch hit him in his three plate appearances.
Ben Schanno, Anderson, Armstrong and Gabe Helseth each added a hit apiece.
"I hit in to center, Mike hit in to center, Ben had a nice hit, everyone hit the ball nicely," Helseth said.

TD played Saturday against Bend North in the championship game.