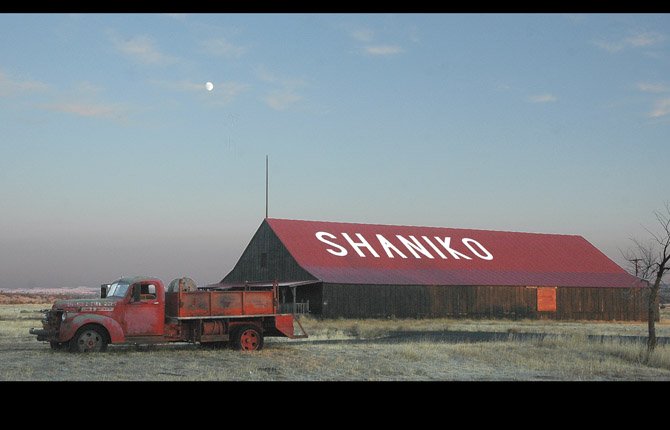 Shaniko — SHANIKO — The vast plains above Madras will become a seam of activity as the community of Shaniko hosts events that make the historical landmark come alive this summer and fall.
The famed "Wool Capital of the World" is located on Highway 97, 56 miles south of the Columbia River from Biggs Junction.

Ghost towns are categorized into three types: still inhabited, deserted, and known only by the ground once occupied. The population of Shaniko is typically around 30, if not a bit above.
Living "far out" in Shaniko delivers an unusual, unique, and historical experience. A former shop owner once said, "Shaniko is a place to do nothing." Another good description for a visit is "Relax, Retreat, and Remember."
Open April through September, the shops are woven in between the history available: in the museum, along the streets, and on the murals that decorate the buildings. Those looking for history can find it any time. Event weekends are designed for those seeking more activity.
The following events are hosted by the Shaniko Chamber of Commerce, City of Shaniko and the Shaniko Preservation Guild:
• Shaniko Wool Gathering and Artisan Faire, July 13-14: Shaniko's wool history comes alive through displays, products, demonstrations and artisans of all kinds. A celebration of history and art joined together. Vendors and guests are welcome. Online: www.shanikooregon.com or on Facebook at https://www.facebook.com/shanikowool.
• Shaniko Days, Aug. 2-4: This authentic annual event was established in 1985 to celebrate the new water system and the historic spring water that runs through Shaniko. A parade, pit barbecue dinner, music, raffles, performances, gunfighters and evening entertainment are part of the fun. Online: www.facebook.com/ShanikoDays
• Shaniko Barbecue and Hotrod Gathering, Sept. 14: This auto and bike event features nostalgia of any age and runs from 10 a.m. to 3 p.m. Registration is from 9 a.m. to noon and requires a $20 entry donation. Entries receive goody bag, dash plaque, raffle ticket and one barbecue lunch ticket. Barbecue is $6 a plate at noon. Trophy awards are at 2 p.m. Call Sandy for more information at 360-693-9229. The event is a chamber and volunteer fire department benefit.
• Shaniko Ragtime and Vintage Music, Oct. 11-13: Ragtime music and musicians can take you back to the special tunes of the past. Professional musicians liven up the town (one day in Moro) and will even play requests. A silent movie will be played to live music accompaniment. Admission is free. Music is Friday and Saturday from noon to 6 p.m. Jams start at 7. An all-performer concert will be Sunday at the Shaniko Schoolhouse at 2 p.m. A$10 donation is suggested.
At each event, food is available in town. Vendors and guests are welcome. RV parking and camping is free on the streets of Shaniko. Lodging is available in the nearby communities of Maupin and Madras.
Find further information online www.ShanikoOregon.com or find specific events or the town on Facebook.
Call the event line 541-489-3434 for more information.