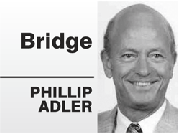 Denis Healey, a British politician, said, "Follow the first rule of holes: If you are in one, stop digging." If he were a golfer, presumably he would have said, "If you are in a hole, take the ball out and move to the next tee."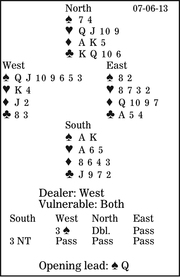 In today's deal, though, South's problem is which suit to dig at first. He is in three no-trump, and West leads the spade queen.
After West opens three spades, North has a textbook takeout double, and South plunges into the logical game contract.
South starts with five top tricks: two spades, one heart and two diamonds. He can gain three more winners from clubs and at least two from hearts. And there is a natural instinct immediately to play a club, but that is fatal. East wins with his ace and returns his remaining spade, which establishes West's suit while West still has the heart king as an entry.
Declarer needs to realize two things. First, that if West has the heart king and club ace, the contract is unmakable. Second, that it cannot cost to take the heart finesse before touching clubs.
So South plays a diamond to dummy's king, then runs the heart queen. If the finesse wins, declarer can switch to clubs to establish nine winners. Here, though, the finesse loses and West probably perseveres in spades. South wins and knocks out the club ace, knowing that East is now out of spades.
If instead West returns his second diamond at trick four, declarer takes the trick and plays a club, aware that he cannot lose more than one heart, one club and two diamonds.