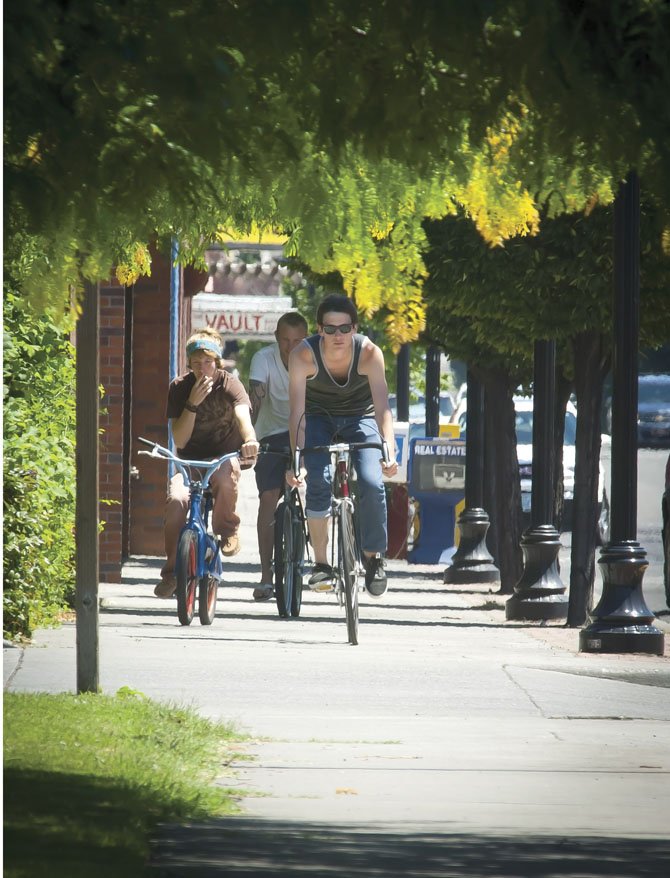 The Dalles hasn't seen an update to its bicycle transportation plan in 20 years and longtime local cyclist Clay Smith thinks it's time.
Streets in The Dalles have seen significant changes, Smith said, and the plan needs to be updated to reflect those changes.
"The idea would be to have a meeting with concerned citizens where we can identify the problems that exist right now that make [cycling] unsafe and/or not convenient or efficient for traffic flow in places in town and try to come up with some good solutions to the problem," he said.
Smith has been working with The Dalles City Councilor Tim McGlothlin, who represents the city council on the Traffic Safety Commission. They have set a meeting for Monday, Aug. 12, at 6 p.m., at the Wahtonka Campus meeting room, former school library. About a dozen people, half city officials and half cyclists, have agreed to attend so far, but the organizers are hoping more will attend.
"The meeting will also be videotaped and uploaded to YouTube," McGlothlin noted.
Some problems may not be able to be fixed because of state or federal regulatory restrictions, Smith noted, but others may yield to relatively simple and low-cost solutions.
As an example of traffic situations dangerous to cyclists, Smith pointed to West Second Street, where cyclists going each direction are hemmed in between motorists traveling at higher rates of speed both on the main street and those taking offramps from Interstate 84.
As an alternative to that street, the city attempted to divert cycling traffic to West Sixth Street, but traffic congestion has increased since 1993.
New commercial development along that corridor, with new exits and entrances, and increased vehicle parking adjacent to cycling lanes has added to the hazard for cyclists.
Another problem example is 13th Street west of Cherry Heights Road, where a bicycle lane was added, but on the wrong side of the street, where driveway interruptions are greater and where the lane comes to an abrupt and, Smith said, unsafe end at the intersection with Walnut Street. On the other side of the street, driveways are fewer and the lane would be able to continue safely beyond Walnut.
On the positive side, Smith says motorists in The Dalles have shown increasing courtesy toward cyclists over time.
"I am on the streets almost every day and I appreciate the courtesy that's shown when I'm out there," he said.
He said he has also seen support in the past from the street-sweeping workers to include cycling lanes in their sweeping process, although that hasn't been happening as much lately.
"Our little tires are really susceptible to flats," Smith said. "It's not a fun thing to happen."
Smith envisions a grass roots effort to improve cycling conditions in The Dalles, using volunteer effort as much as possible to keep costs low.
"We decided that perhaps the first stage would be to sit down and talk and have an open forum – open the lines of dialogue," said Councilor McGlothlin.
He, Mayor Steve Lawrence and Councilor Dan Spatz, Public Works Director Dave Anderson and other city officials have already agreed to attend, as have a half-dozen members of the local cycling association.
McGlothlin said three major goals of the meeting will be to:
review and recommend revisions to the city's current cycling plan,
improve the perception through action that The Dalles is cycling-friendly,
improve the safety of cyclists in and around the city.
"One of the issues the mayor has brought up is the fact that he has noticed that the amount of biking events in the city has declined," McGlothlin said. "We would like to invite events back into our city. The bikers are a wonderful group of people. They're nonpolluting. They're not a wild drinking bunch of people. They're good neighbors to have using our streets."
McGlothlin also hopes to take a little time at the meeting to note the improvements that have occurred in cycling facilities over the past 10 years, "especially the Riverfront Trail. It's opened huge possibilities."
Those who are interested in knowing more about the meeting may contact Smith at 541-296-1314 or clayrace16@yahoo.com.