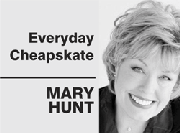 I was going to begin today's column by apologizing for yet another update on how to make homemade laundry detergent. Then it struck me. These aren't really changes — they're improvements. And with that, I'm excited to share the my Newest! and Most Improved! version of my Quick 'n' Easy Homemade Laundry Detergent.
To make 1 gallon of liquid laundry detergent, assemble the following:
A 1-gallon plastic container with tight-fitting lid. I used an empty Arrowhead water jug.
Borax. Find Twenty Mule Team Borax, or any brand of borax, in the laundry aisle of your supermarket or a department store like Wal-Mart or Target.
Super Washing Soda OR soda ash. Super Washing Soda (sodium carbonate) is becoming increasingly difficult to find. If you can't find it in the laundry aisle somewhere, consider using its twin, soda ash (sodium carbonate), instead. You will find it in pool supply stores.
Blue Dawn dishwashing liquid. There seems to be multiple versions of blue Dawn these days. I've seen it as "Original," "Ultra Concentrated" and, most recently, "Advanced Power." I've tested all of them, and I can detect no difference in the final product we're making here.
Step 1: Pour 3/4 cup Borax and 3/4 cup Super Washing Soda (or soda ash) into the empty one1gallon container.
Step 2: Add about 2 or 3 cups of the hottest water you have available out of your tap.
Step 3: Apply the lid, and shake the container vigorously until the powdered ingredients appear to be dissolving and the water turns milky
Step 4: Fill the container with hot water to within about an inch of the top. You want to leave enough room for the Dawn, which is coming up.
Step 5: Slowly pour in 3/4 cup blue Dawn dishwashing liquid, and you will not have to contend with bubbles or billowing foam.
Step 6: Once you've poured in all of the Dawn, fill that measuring cup with more hot water so you can top off the container and rinse out the last of the Dawn.
If you still have room, add more water until you are about 1/2-inch from the top.
Step 7: Apply the lid. This should be quite easy because you will not be contending with suds or bubbles. Notice how the dawn is not fully mixed up. That's fine. Just get that lid on tightly.
Step 8: Gently shake container to mix. That's it. All done.
To Use: Add 1/4 cup detergent to a regular load of laundry.
This detergent is absolutely low-sudsing, which is what HE (both top- and front-loading) washers require. However, if you do not have an HE machine, this detergent is still fabulous and will work well in your traditional washer — and for about a nickel a load.
Mary Hunt is founder of www.DebtProofLiving.com, a personal finance member website.