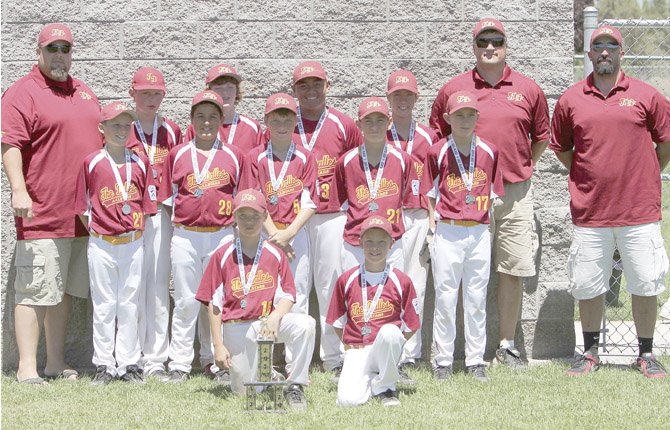 Although The Dalles' 11U All Stars finished two wins short of continuing its season, they put on a powerful seven-day display that will carry over into 2014.
Second place versus a high level of competition is a great accomplishment and now the hope to make another triumphant return to districts and beyond is steadily in place.
How does head coach Joe Abbas visualize this?
This group made it apparent in their remarks.
"After losing the title game and receiving the second place trophy and medals, we sat in our post game huddle one last time as a team with their families recapping the day and week," Abbas said. "The kids asked, "can we keep practicing?" That told me the kids had fun and we as coaches must have done something right with them over the last two weeks together."
After a gutsy 4-2 win over Bend South Friday afternoon vaulted the 11U group into the championship game, the huge task was to claim consecutive wins over Bend North to punch a state tournament ticket.
Entering the final tussle, Bend North had outscored its opponents by a 52-4 margin, including a 26-2 romp in Thursday's semifinal game against The Dalles.
Even so, Abbas saw a look in his teams' eyes.
"The kids were confident going into Saturday's championship game in Bend," Abbas said. "We knew they were a very good team and we would need to play near perfect to send the series to a second and deciding game this Saturday."

The Bend North squad took control early on and never looked back, as it scored four runs apiece in the first, second and third innings to secure title honors with a 13-2 mercy-ruled win in the series finale at Lava Ridge School in Bend.
Down 12-0 in the bottom of the third inning, The Dalles finally broke through with two runs on two hits and an error.
With one out, Ben Schanno dribbled a ball to the Bend North pitcher, who the bobbled the ball allowing Schanno to reach safely.
Sam Thalhofer then followed with a single to put runners on the corners.
Dalles Seufalemua drove in Schanno after his deep shot to right field bounced in play and over the fence for a ground-rule double to make the score, 12-1.
Dominic Smith capped the scoring with a run-scoring fielder's choice to bring in Thalhofer on a ground ball to second base.
TD still had an opportunity to creep closer with a runner in scoring position, but a ground ball out to third base ended the threat.
Down by an 11-run margin, The Dalles needed two runs in the bottom of the fourth inning to keep their season going.
Bend North had a new pitcher on the hill, and he retired the bottom half of TD's batting order on a popup, a ground out and a strikeout.
Seufalemua had two of the four hits and he tacked on an RBI.
Steven Preston and Thalhofer added a hit each, and both Schanno and Thalhofer scored runs.
Coach Abbas said everyone he sent to the batter's box put the ball in play.
Unfortunately, most of those hot shots were right at people. Of the 12 outs, the Bend North infield retired eight TD batters on grounder, popouts or force plays.
"It wasn't that we played poorly, they just made the plays they were supposed to," coach Abbas continued. "Our hits went right to them; theirs went just over outstretched gloves, or found a hole in the defense and dropped in. That's baseball."


Throughout the week, The Dalles had some inspiring performances in posting a 3-2 record to hoist a second-place trophy.
Whether it was Zach Anderson, Josh Johnson or Seufalemua, the team had stirring efforts on the hill.
In three wins over Hood River (10-0), Jefferson (3-1) and Bend South (4-2), that trio allowed three runs on eight hits, as TD worked a winning margin of 17-3.
Two of those victories came in nail biting situations where a bounce here or there makes the difference in the game.
"We pitched well all week and this day (Saturday) was not different," coach Abbas said. "We gave up a few home runs this week, but we were able to keep the ball down all week and keep a lot of explosive teams at or near zero runs scored."
With the core group of Thalhofer, Seufalemua, Smith, Mac Abbas, along with future standouts Austin Weir, Mike Armstrong, Gabe Helseth a few others hoping to get another crack at a district 2014, there is plenty of work to be done in the offseason.
Coach Abbas and his staff of Chris Schanno and Mike Armstrong Sr. took some things away from TD's play during the week.
Most of those elements are definitely fixable, so no major overhaul is needed, just a few wrinkles to iron out.
"The kids played extremely well this week and I am proud to have helped Coach them," coach Abbas said. "Coach Schanno and Armstrong deserve a lot of the credit for the success of this team. They both gave 110 percent of themselves to get the most out of these kids this week. I think the kids enjoyed the time together and did a great job overall."