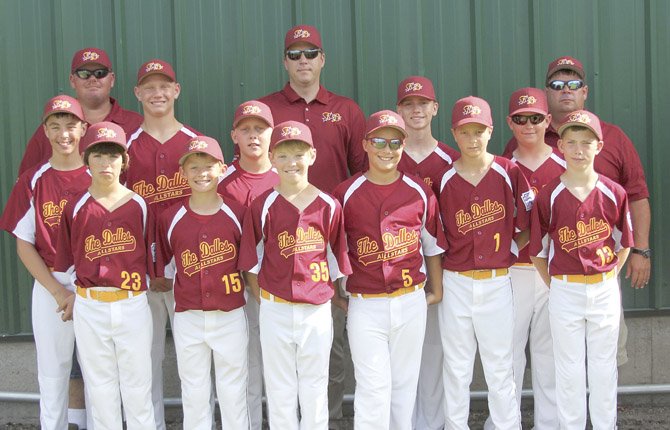 For the first four games, The Dalles Little League 12U All Stars had everything going their way.
They had already skipped past Columbia, John Day River, Bend North and Bend South, using a combination of pitching, hitting and defense to punch a final game ticket.
All TD needed was one District 5 championship game win over Hermiston and they would be taking the state tournament jump this weekend.
Those plans came to an unexpected halt Saturday afternoon, as Hermiston pitching shut down this once prolific offense in wins of 5-2 and 3-1 in a pair of title games at Skyview Middle School in Bend.
With 12U hurler Henry Lee used up for the duration of play, TD sent out Caden Mathisen in the opening showdown against Hermiston's ace.
The Dalles could not maintain any offensive continuity, however, and Hermiston squeezed out five runs against Mathisen to take a 5-2 win and move this tournament into a winner-take-all scenario.
"The first Hermiston pitcher had a great curveball," said TD assistant coach Dan Nelson. "He was a very strong pitcher. He went through a lot of our kids."
In the nightcap, The Dalles racked up a good amount of hits, but had an even tougher time scoring runs, while pitcher Jordan Wetmore did everything he could to keep his squad in contention.
Hermiston managed three runs, while The Dalles could only scratch across one.
"We held them to a two-run difference, so I think it speaks highly of us because they (Hermiston) really played well," Nelson said. "Our kids held in there. We had a second chance at it. In that game, we had a lot of hits, but we left runners stranded on base. We could not string together two or three hits in a row, or get the hits when we really needed them."
In all, The Dalles put 33 runs on the scoreboard in its six games and the stout pitching staff allowed a scant 2.83 runs per game.
Lee slugged a couple of home runs, Andy Carlock had some solid at-bats and both Wetmore and Tyler Vassar proved to be clutch in a few of the wins.
TD beat Columbia by a 10-3 score on Saturday, June 29, and then followed up that topt effort with an 11-1 outcome against John Day River on the next day.
Tuesday, The Dalles came back from an early deficit to post an 8-5 win in extra innings to earn a spot in the semifinals.
There, TD got a seven-inning, three-hit and 11-strikeout gem from Lee. Jake Roetcisoender drove in Vassar with the game-winning run to give their squad a 1-0 seven-inning triumph.
They fought like champions until the very end.
"It was a wonderful, wonderful week," Coach Nelson said. "We took down some amazing teams in Bend North, Bend South, John Day River and Columbia, all great teams. I am very proud of my kids."
One of the toughest things about Saturday's was not the fact that the little league season was over – it marked the final games played by nine all-stars in Roetcisoender, Lee, Carlock, Vassar, Wetmore, Louis Red Cloud, Isaac Abrams, Riley Mills and Devon Eiesland.
A large chunk of that group made it to the championship game for the past three years.
Some players and teams never have the luxury of that accomplishment, so they should hold that notion close to their hearts.
"They are all very good kids. Just wonderful kids. I will miss them," coach Nelson said. "It was hard for them to lose those last two games. With all of the stresses and adversity they had this year, they should not hold their heads down. They played good baseball throughout their little league careers. Now they will move on to Babe Ruth. I know they will do just as well."
Three faces will have one more chance at making a trip to Williamsport, Pa. for The Little League World Series in 2014.
Ben Nelson, Kurtis Billette, who did not play due to a hand injury, and Mathisen make up that returning trio.
Adding three standout players to a roster of 11U All Stars who made it to the title game this past weekend is a good mix to have.
"That 11-year old team is very strong and I look for them to do good things next year," Coach Nelson said. "In order to be successful, we need to get bigger, faster and stronger to compete with those other teams."
On several occasions this past week, umpires and opposing coaches commended The Dalles for their sportsmanship, which is a true representation of the community.
Nelson knows that much of the TDLL success is due to a collaborative effort between the coaches, players, community members and local businesses — it is a major reason why the program is so strong.
"Everything doesn't happen without the parents," coach Nelson said. "The parents on the Little League board, the parents who volunteer to umpire, the volunteer coaches and those who run the concession stands, everything we are able to accomplish is all due to the support of the community. They have been outstanding."
While the little league and JBO seasons are done, coach Nelson and a few others are eyeing the autumn months for additional fall ball tournaments.
Any extra time on the diamond would prove beneficial in the end.
"We want these kids out there playing more baseball," said the coach. "I want to come back this fall with all of our kids, at every age level, and give them every opportunity to become the best ballplayers they can be."