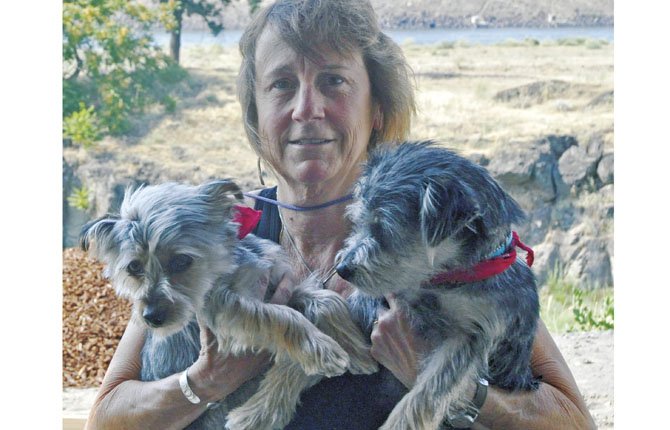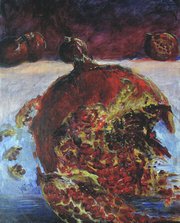 The Dalles — When Yvonne Pepin-Wakefield accepted an opportunity to teach university art to Muslim women in Kuwait she had no idea what she was getting herself into.
Her six-year experience there — sometimes wonderfully gratifying and other times bafflingly unfair — is chronicled in paintings of exploding pomegranates and veiled women that help make up "Abaya and Beyond," the July show at The Dalles Art Center.
"The paintings are a narration, a way to tell my story as a woman in Kuwait," Pepin-Wakefield said. Her show, which has only been displayed one other time in the United States, is coming to The Dalles because the artist herself is moving to The Dalles as soon as she and her husband finish building a house and art studio here.
Pepin-Wakefield was a landscape artist before she discovered there wasn't much of a landscape to paint in Kuwait; she said she is looking forward to painting the river views from her new studio.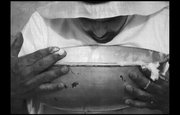 All of the paintings and hand-colored photographs in the "Abaya and Beyond" show were produced by Pepin-Wakfield during her time in Kuwait, which lasted from 2004 to 2010. However, not all of them were shown there. The artist learned quickly that a foreign woman challenging the status quo in Kuwait can be very dangerous.
One such painting currently hanging in the art center depicts abaya-clad women with lambchops for heads. It was inspired by a comment from a prominent Muslim cleric comparing women walking around with their heads uncovered to uncovered meat left out on the street — if the cats come and eat it, then it is the fault of the meat and not the cats, he said.
"If I had hung it in Kuwait, it wouldn't have been pretty," Pepin-Wakefield said of the painting. "I wasn't trying to offend anyone; this was just part of my experience."
During her six years at a Kuwaiti university for women she saw firsthand examples of oppression of women but also examples of liberation that surprised her.
In her book "Suitcase Full of Nails" she describes a wide cast of women she met in Kuwait, from the Kuwaiti colleague who wears short, tight skirts with no covering over her pink-streaked hair to the veiled student who found out from someone besides her husband that he was in the process of taking a second wife.
Pepin-Wakefield said that often the women who covered their heads or faces in public defied the stereotypes she brought with her. Those who frequented the mall or fast food restaurants with only their eyes showing often found ways to assert their personality and femininity through colored contact lenses, beautiful eye makeup, stylish shoes and flashy designer purses.
When she visited a student she calls Maysoon at home with only women present she discovered that underneath the head-to-toe covering was a miniskirt-clad fashionista "who would give any Vogue model a serious run for her money."
Pepin-Wakefield said many women in Kuwait may cover their heads for religious reasons but also have families who allow them to study at universities in Western countries and travel abroad.
"People think the women are oppressed but with the wealth in Kuwait many of them have more entitlements and opportunities than you and I will ever have," she said.
That being said, Pepin-Wakefield and her students also experienced what happens when women in a Middle Eastern country dare to challenge the status quo.
Much of "Suitcase Filled with Nails" is dedicated to chronicling her abuse at the hands of the male head of her department, who sabotaged her in every way he could think of after she made it clear she would not bow to his every whim.
When her all-female art club put on a show called "Chair as Self Portrait," their rebellious depictions of chairs bound in barbed wire or designed to prevent being sat on caused someone to write "Shame on You" across each of the posters advertising the show. Pepin-Wakefield said the department head gave all of the students involved with the show a mixture of extra work and failing grades for the rest of the semester.
"According to him, what the club did was not art and constituted an embarrassment to the college," she wrote in her book. "His opinion runs contrary to that of one international visitor to the exhibit, who says, 'I would expect to see this type of work in New York. Not Kuwait.'"
She also experienced discrimination against foreigners, such as the time she and a Swedish woman easily outstripped all of their Kuwaiti competition in a race but watched as the prizes for first, second and third place were awarded to Kuwaitis. Her paintings of pomegranates exploding and being torn apart were a way to express her anger and frustration at those types of injustices in a way that wouldn't get her into serious trouble.
Despite these negative experiences, Pepin-Wakefield said she also met many Kuwaitis — men and women — who treated her with respect and friendship. Students were often affectionate and gracious in helping her learn the ropes in a new country. It was these friends and students who caused her to come back each school year for six years.
She said when she was producing hand-colored photographs of Kuwaitis doing traditional chores she found herself out in the desert with a group of camel herders. The men accepted her easily into her group and they bonded over camel's milk and a beautiful sunset, despite not speaking each others' language.
"That was one of my most pleasurable times in Kuwait," she said, pointing to a photograph of one of the men. "But six years before I would have seen a picture like that and thought 'terrorist.'"
She said she hopes that her paintings, photographs and accompanying material will teach people to look past the stereotypes and see the many Muslims who are surprisingly modern, enlightened and friendly toward foreigners.
"My big thrust with my art, and displaying it, is that it's not just a pretty picture, it's educational," she said.
Pepin-Wakefield's show is already set up in The Dalles Art Center for the month, but the official opening reception will be Thursday, July 11, from 5 to 7 p.m. At 6:30 Pepin-Wakefield will share a PowerPoint presentation about her time in Kuwait that includes images of her students and their artwork. The event is free and the book "Suitcase Full of Nails" will be on sale for those who are interested in finding out more about the experiences that inspired "Abaya and Beyond."