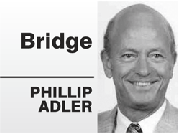 J.P. Morgan of banking fame said, "A man always has two reasons for doing anything — a good reason and the real reason."
A bridge player chooses a bid for two reasons — to describe his hand as accurately as possible and to reach the right final contract. Of course, they are symbiotic, one helping the other.
However, sometimes it isn't obvious what bid to make. Look at the South hand. You open one spade, and partner responds two clubs. What would you rebid?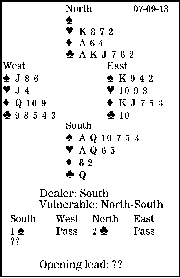 A columnist explained that with 6-4 shape, opener rebids in his six-card suit with a minimum, but shows the side suit when he has extras. That is true only when the four-card suit is a minor. When it is a major, opener always shows it. To rebid two spades here in principle denies four hearts.
Now look at the West hand. What would you lead against seven hearts?
The writer gave a bizarre auction before discussing the play in seven hearts after West leads a low club. South wins with his queen, then should ruff a spade, cash the heart king, play a heart to his ace, ruff another spade, ruff a club to establish the suit, draw East's last trump, and claim, the diamond ace being the entry to the club winners. He takes one spade, three hearts, one diamond, five clubs and the three ruffs.
But why would West lead a club? Perhaps he hoped that East was void in the suit. But if he had been, he probably would have made a Lightner Slam Double, asking for a lead in the first suit bid by dummy. A diamond lead defeats seven hearts. In general, do not lead suits bid by the opponents.