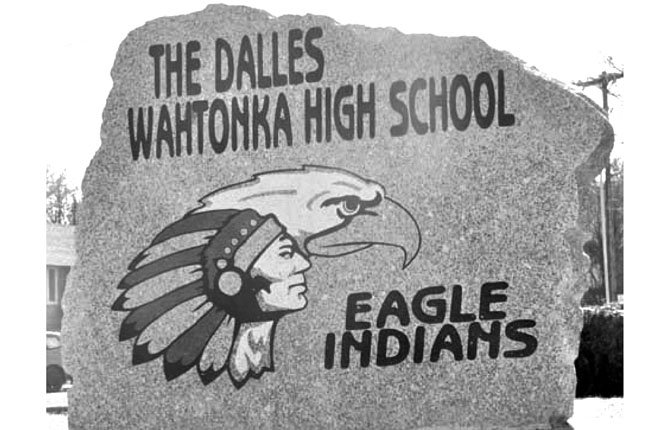 The Dalles — When the Oregon Department of Education created a ban on Native American mascots last year, it looked like it was goodbye Eagle Indians.
Then the Oregon legislature passed a bill overriding the administrative rule in cases where local tribes have given the stamp of approval.
Now the governor has threatened to veto it.
We've said it in the past and we will say it again: There is a broad spectrum of treatments of Native American-related mascots and it doesn't seem right to arbitrarily ban them all in a top-down mandate that leaves no room for community discussion.
As a result, we're not in favor of the governor vetoing this one. But that doesn't mean we don't put any stock in some of the arguments against Native American mascots. If nearby tribes tell a school they're offended by a mascot and feel that their children are being stereotyped because of it, then by all means, change the mascot.
But we would rather see that change happen as a result of a thoughtful discussion at the local level than a no-room-for-compromise mandate from the government. The mascot change is more likely to draw willing support when students and teachers can understand for themselves the effect the old mascot had on real human beings living in their community.
Many schools have already made changes of their own volition using this approach. The Roseburg High School Indians changed their logo from a scowling caricature to a simple feather after consulting with local tribes. In Molalla, they stopped using a student in a headdress to lead cheers after some found it offensive. And Enterprise High School dropped the Savages nickname all on their own in the 1990s.
Considering the wide variety of Native American mascots, from the Warriors to the Redskins, as well as their treatment, it is likely that some tribes in Oregon might say they are okay with certain schools' mascots as long as certain protocols are followed.
That's what happened when the NCAA made a similar rule about college mascots. The Seminole Tribe of Florida approved the Florida State Seminoles to continue use of their mascot, which was chosen to honor the Seminole people who resisted being removed from their homes by the United States government in the early 1800s.
The same goes for the Ute tribes, who approved continued use of the University of Utah Utes nickname as long as the school doesn't use a depiction of a Native American for its logo (the university has adopted a red-tailed hawk to represent the "soaring spirit" of Utah's tribes).
Perhaps a better approach to fostering understanding and breaking down stereotypes would be to focus on teaching students more about the Native American history and culture in their area.
As Reyn Leno, chairman of the Confederated Tribes of Grand Ronde Tribal Council, told the Oregonian: "I think everybody's time and money could be better spent than tearing up gym floors and taking things off gym walls in an environment where every penny counts. I think the money would be better spent telling the history, culture and traditions of the nine tribes of Oregon."
The Albany Democrat-Herald's editorial board had a nice idea last week when they suggested the governor register his protest by simply not signing the bill. After a year or two it would become law without his signature, providing a window of time in which school districts can start a dialogue with local tribes.
"If it doesn't work out, well, we can return to the issue in the 2014 or 2015 sessions," the newspaper wrote. "But we suspect that Senate Bill 215 provides a sturdy framework for constructive and even educational discussions between schools and tribes."
If schools are allowed to seek permission from local tribes, will The Dalles Wahtonka Eagle Indians get to keep their name? We don't know — local Native American residents have expressed strong opinions on both sides. But we would like our community to have a chance to make that conversation happen.