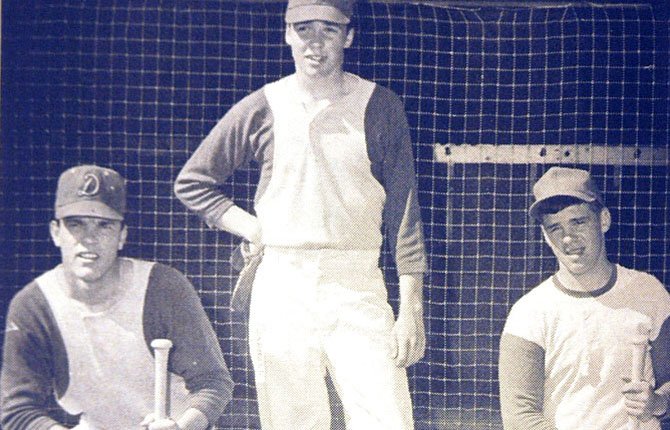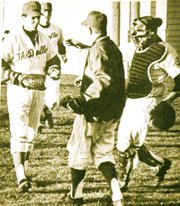 The Dalles — The baseball Gods were smiling from above Bob Williams Field on a picturesque Tuesday afternoon, as friends, fans, family, colleagues and ex-players memorialized the life and career of Allan "Al" Morrison – a former The Dalles High School pitching great, who died July 2 at his home.
A large crowd hit the stands at Quinton Street Ballpark to hear the old stories, laugh at a few anecdotes and jokes and listen to what Morrison meant to The Dalles community over the years.
As the speakers went on, there were tender moments shared and tears shed, as the man with the golden left arm stood for what was right in the world.
"It was a great day. What a great venue to honor the man," said Hall of Fame baseball coach Steve Sugg. "The guy loved baseball and I know that is what he would have wanted. It was a great crowd. Lots of people came out and it was a beautiful day."
Having the ceremony on Bob Williams Field was fitting. When Morrison was growing up, Williams was very much a part of the family.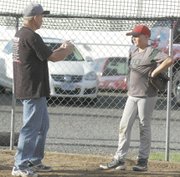 "He spent a lot of time there and so for his memorial service to be at Bob Williams Field, it was a special moment for Al and his family," Sugg continued.
A senior season to remember
Morrison graduated from The Dalles High School in 1967 and his senior year had many highlights.
In a time where leisure slacks were $5, 20 grapefruit sold for $1 and $2,706 was the sticker price on a brand new Ford Mustang, Morrison was lighting up the baseball world.
On April 14, 1967, he struck out 15 batters in a complete-game two-hitter to lead The Dalles to a 3-0 win over Wy'East High School.
Seven days later, Morrison made the history books along with opposing pitcher Fred Postlewait, of Canby, in a 16-inning marathon game.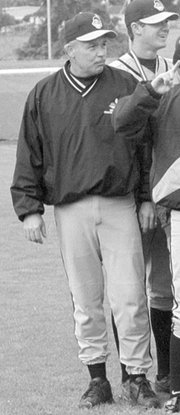 The Dalles won by a 1-0 score, with Gene Eberhardt stealing third base and scoring the game-winning run on a throwing error in the bottom half of the 16th frame.
In his 16 innings versus Canby, Morrison struck out 22, walked five and allowed two hits. He worked in great rhythm with his catcher, Leo Troutman, who was behind the dish for the duration.
Just seven days after his 16-inning effort, Morrison tossed a no-hitter with 17 strikeouts in a 12-0 win over the Silverton Foxes.
He finished one batter short of a perfect game.
Morrison's stat line on April 28 was eye opening, as he notched a 6-1 record with 94 strikeouts and 19 walks in 63 1/3 innings pitched.
Up to that point, he had allowed six runs, one earned.
He added two more no-hitters, one in American Legion play and at one point in the high school season, had a 34 1/3 inning scoreless streak.
For his outstanding season, Morrison earned TD's outstanding baseball player award at the all-sports ceremony and chalked up a spot on the all-star team.
Former The Dalles baseball coach and Hall of Famer, Bob Brockman, saw many great pitchers in his lifetime and offered significant praise to Morrison.
"Al was a great one. At the high school level, Al Morrison was probably the best left-handed pitcher to come through The Dalles," Brockman said. "Ken Dayley (a former St. Louis Cardinal standout) got better as he went on to the pros and college and he was a good one, don't get me wrong. (Former Major League Baseball pitcher) Allan Embree was a great one too, but Al Morrison was the best of them all."
Trying to make a difference
After returning from Vietnam, Morrison later attended Columbia Gorge Community College before completing his Bachelor's Degree at Marylhurst College in 1993.
In addition to his full-time job as the local veterans representative at the Oregon Employment Department, Morrison spent much of his time volunteering as a baseball coach at all levels from Little League to high school.
He also volunteered with local veterans' organizations.
Brockman expressed the importance of having former players and coaches giving back to the community.
From Don Slusher, Dave McBride, Bill Sallee, Noel Aronson and Doug Sawyer, there are years of baseball knowledge in The Dalles.
Brockman feels that those former coaches and volunteers who dedicate countless hours are far less appreciated than they should be.
"We are going to miss Al Morrison's presence in the community," Brockman added. "Just like we miss Bob Williams and like we miss some of the other guys. You do not replace those kinds of people. Al was a one-of-a-kind."
Current Babe Ruth 14U All Star coach Sean Herriges called Morrison a mentor to himself and the community who was a phone call away from working with pitchers.
Herriges said he would continue along that path that Morrison paved for coaches who have the influence of today's athlete.
He had some profound words to commemorate a life-changing role model.
"I will truly miss you, not only as a mentor, but as a genuine friend," Herriges said. "I wish I could remember every bullpen story you told. As I heard them all over 100 times through the years. I have the utmost respect for you as a man and admire what you stood for. (I am) blessed to have known you through the years Al Morrison. May every baseball game be sunny and every pitch be a strike."
As an all-league left-handed pitcher and infielder on The Dalles Wahtonka baseball team, Austin Wilson heard the stories and knew how good a coach Morrison was.
He never had the chance to work with him though.
"I wish I had. I know he would have helped me a lot," Wilson said. "He is the definition of The Dalles High School baseball. He was one of the old guys that we all talked to on our own. He is someone we can look up to and say, 'Hey, he contributed a lot.'"
Former all-league baseball player and 2013 The Dalles Wahtonka High School graduate, Justin Sugg, has been around the baseball fields since he was in diapers watching the old Indians winning state championships.
While his father skippered the varsity team, Morrison, then an assistant coach, would watch over the younger Sugg.
Justin said Morrison was a father figure and a great person overall.
"He taught me a lot about the game," Sugg said. "He taught me how to be a classy person, not only on the field, but off the field. It is really sad that he passed. He was a great person to know."
Before Tuesday's American Legion game, Sugg talked about a pregame pep talk from Columbia Gorge Hustler head coach J.R. Runyon.
"Runyon told us before the game, that one thing that Al Morrison always said was, 'anything that is worth doing, do it 100 percent,'" Justin said. "So anything you do in life, you go as hard, try as hard as you can and don't leave anything back. Thinking about him today, we dedicated the day to him. We just tried to play our butts off for him because he deserved that."
The circle of coaching life
Morrison was Steve Sugg's first baseball coach, in Little League when Sugg was 9 years old.
At the little league draft, Sugg and six other nine-year-olds were put to the test on the little league circuit, for a shot at winning a city championship one day.
After building and developing that group, four years later, the same seven drafted by Morrison were still together to win a city championship.
In 2001, Morrison and Sugg joined forces at the varsity level for some more state hardware glory. Sugg was the head coach and Morrison attended to the pitchers.
"He always laughed about that, saying 'how many guys have ever been able to coach one of their own protégés to a city championship in Little League and then coach with them for a state championship in high school?" Steve Sugg said. "That was a special moment we share."
Morrison taught Sugg how to play catch and the fundamentals of the game.
In many ways, Sugg patterns his philosophy and style after Morrison's.
They had shared a bond through winning and remained in contact.
Upon hearing the news of Morrison's passing, Sugg said he was devastated.
He knew a moment to thank Morrison for being a friend and a mentor had passed.
"I wanted to go see him and talk to him and thank him," Sugg said. "When I was recently inducted into the hall of fame, I was going to thank Al for being a big part of my accomplishments. I wanted to tell him how much I appreciated him. I feel bad because I never got that opportunity."
As coaches, there was always a battle of wits between Sugg and Morrison. Sugg said Morrison felt left-handed people thought differently than right-handed people and so the debates would go on, but lefty was always right.
As a nine-year-old, Sugg, however, did not forget about listening to some words of wisdom Morrison ingrained in his head about the baseball Gods.
"He told us, 'You can do it that way, or you can do it this way. If you do it this way, which is the right way to do it, the baseball Gods will take care of you. If you do it your way, you are going to make the baseball Gods mad and it will haunt you,'" Steve Sugg said. "If you are a 9-or-10-year old kid, you are looking up in the sky and he is talking about the baseball Gods. That was a great way of really getting a young kid's attention on doing things right. You definitely did not want the baseball Gods on your bad side."