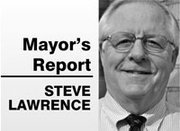 When I began writing the monthly Mayor's report, my goal was to simply report on the actions of city government. I was going to stay away from personal opinions and I certainly was not going to lecture. There comes a time, however, when it's best to speak your peace.
The Dalles is moving in a positive direction. The Chamber of Commerce is working harder to promote economic development and the Main Street Program, through its nonprofit status, is putting together committees and work plans. There is a focus on revitalizing the downtown core area.
No matter where other areas of retail or industry exist in the community, the downtown needs to be strong in order for The Dalles to thrive. On June 29, I walked through and looked at many buildings for sale or rent as part of the Chamber's Open for Business event. Of the many owners or landlords who promised they would be present and available to potential renters or buyers, only three showed up. That is not good business.
On June 25, a joint meeting of the Urban Renewal Advisory Committee and Agency met at city hall to discuss the Urban Renewal Plan; its history, present projects and its future. Only a few citizens were there to listen.
There is only one way for a community to succeed and it's not to sit back and rely on elected officials and the same group of regular volunteers who seem to do everything. Everyone, and I mean everyone, needs to do something to further the idea of a thriving town, helping it do what it can to better the welfare of all its citizens.
If you don't think elected officials are listening, figure out how to make them listen. If you want the downtown area merchants to thrive, shop there, go to restaurants there and encourage them to stay open more.
What is the best way to make The Dalles as good as it can be? We have incredible natural resources, bountiful agriculture, beautiful scenery and wonderful weather. We sit in the Mid-Columbia area, along a generous river, guarded by two majestic mountains and full of more important history than anywhere else in Oregon.
Businesses are coming and it's just a matter of how best to help them succeed. Everyone likes a winner. The Oregon Department of Transportation and Travel Oregon are building a world-class bike pathway along the Historic Gorge Highway from Troutdale to The Dalles. We're not ready yet, but we will be. We need an RV Park and businesses to serve the coming riders. Tour boats are bringing visitors who leave empty-handed because there are not enough good stores to shop in downtown. It's an opportunity for anyone willing to take it.
During the third week in July, I will be attending the Oregon Mayor's Conference in Corvallis, a community that is not just the home of the Oregon State Beavers but which bills itself as "Oregon's Most Innovative Town." It is a chance for me to network and learn what other areas are doing. What I have learned so far in visits to Astoria, Pendleton, Bend and other like-minded thriving towns is that success only happens when there is a large group of active, inspired community leaders. I don't mean elected officials. We spend too much of our time reading reports, dissecting budgets and trying to figure out how to fix things. We need community activists.
In successful towns, large and small, you will find bulging Chambers of Commerce where all the businesses are members. You will find passionate volunteer visionaries, like our own Doug Leash, who work tirelessly making sure their community thrives.
In San Antonio, Texas, they have a Cultural Festival in April that goes for weeks. There is a Chamber of Commerce, a downtown association and a Festival Committee, all who combine efforts to make that event a huge success. Why? Because it brings vitality and economic success to all the businesses and thus to the community.
Hood River's Hop Fest lasts for two days and brings in 10,000 attendees. In Pendleton, the entire town participates in the Roundup with schools closing so kids can work or help. It brings in an average $1 million to the local economy. People are passionate.
I have said we are not Hood River or Pendleton or Portland. We are The Dalles, unique and special. We have our own assets and strengths. We all need to convince ourselves of our coming success, roll up our sleeves and get 'er done.
You can call me at 503-807-0724 or email at SeLawrence1963@yahoo.com.