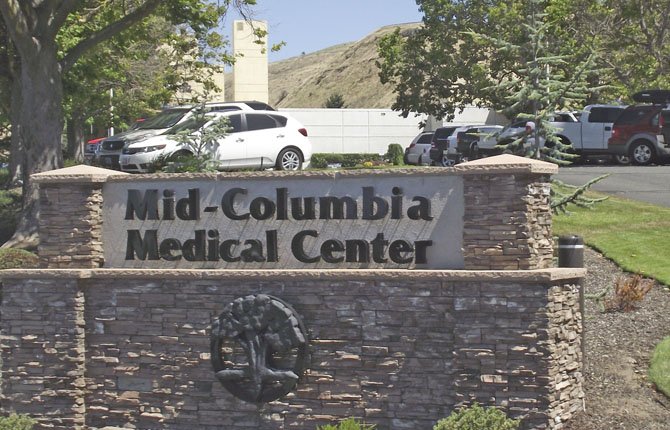 Mid-Columbia Medical Center (MCMC) and Oregon Health and Science University (OHSU) are making plans to align medical and administrative services to improve efficiency and expand access to care.
MCMC announced the plan to its physicians and employees in meetings Monday. A signed letter of intent is expected within the next few days, after a final consultant study is complete, said Duane Francis, chief executive officer of MCMC. Then the two health organizations will begin a due diligence process that will last several months, to explore the details and logistics of the alignment.
"I want to stress that we are not merging our two organizations," Francis said. "MCMC will remain independent, locally controlled and overseen by a volunteer board of local citizens, just as it has been throughout our existence. But we will be looking for more opportunities to share some services with OHSU and align others, allowing both organizations to better meet community health needs. With the changing landscape of health care due to health reform, relationships such as this proposed alignment have tremendous advantages for community hospitals like ours."
"[Changes and improvements] will play out over a period of years," Francis said. "We will build on the longstanding relationship we've had for the past four or five years."
In two community surveys done in MCMC's service district over the past six years, both times OHSU scored the highest among Portland medical centers, noted Dick Baltus, a spokesman for MCMC, '
"I think the community will get even more enthusiastic as time goes on," said Peter Rapp, OHSU executive vice president and executive director of OHSU health care. "Eventually, I think our other missions of education and research really will be a benefit for the community.
Not only can OHSU explore specific community-based health care issues, Rapp said, but the academic medical center can also bring future providers into the community as part of their training.
"It's very important for future recruitment reasons," he said.
The commitment proposed between OHSU and MCMC is the most comprehensive agreement OHSU has considered with a community hospital, Rapp noted.
"We have a history of working with almost every community at the program level," Rapp said, "but I think we can have a greater impact on health care working with an entire care system, as opposed to individual programs."
Over the past five or six years, MCMC has worked at the program level with OHSU to enhance its cardiology and orthopedics specialties. In addition, new protocols established between the two organizations on STEMIs (ST segment elevation myocardial infarction) — a more severe kind of heart attack — have greatly speeded up time between diagnosis in MCMC's Emergency Department and surgery at OHSU. LifeFlight also plays an important role in that process.
"Our timeframes rival the timeframes you would see living in Portland," Francis said. "It's phenomenal."
MCMC is also part of the OHSU Telemedicine Network, which allows physicians in the Mid-Columbia region to easily connect with specialists at OHSU for long-distance consultations for stroke, pediatric and neonatal emergency consultations.
Further alignment between the two hospitals, if successful, will help provide gorge residents with increased local access to a broader range of health care services, as well as the expertise and vast resources of the state's only academic health institution, an announcement said.
"It's a benefit to both parties in the sense of more organized care and more consistent availability of care in the community," said Rapp.
One advantage for OHSU is that better alignment between the two organizations will allow many patients to be treated closer to home, Rapp said, leaving OHSU greater capacity to treat the most severe and complex illnesses.
"The closer care is to home, the better," Rapp said. "We think the community wants that."
The alignment will help the two hospitals be more efficient, share infrastructure, avoid duplication and slow the need for facility expansion.
"We're not building, in Portland, lots of new beds," Rapp said. "I don't think, at this time, society is asking hospitals to expand and build a lot of new beds."
Providing the highest level of care possible in local hospitals like MCMC frees capacity at OHSU to serve "the growing demand for extremely complex health care," he added.
One of the ways that will be facilitated is through alignment of the two organizations' electronic medical records, so that the two hospitals can better communicate on patient cases. Electronic medical records have been identified as a critical requirement of national health reform.
The move will also help with cost savings and other efficiencies, Francis noted.
"We will utilize what they do on a much grander scale to become more efficient and cost-effective in what we do," Francis said.
That's particularly important given the declining reimbursement rates predicted under health care reform. Hospitals are charged with continually improving the services they provide while simultaneously reducing costs. It's a conundrum that is prompting lots of changes in the national health care landscape.
"Look at health care nationally and you're seeing mergers and mega-mergers," Francis said. "Previously independent hospitals are joining systems and systems are joining other systems."
Many hospital costs are fixed, particularly the large capital costs of equipment buildings and other infrastructure like computer technology. Even enhanced supply purchasing power can help keep local costs down, Francis said.
"We have to do absolutely everything the big boys do, we just do it on a smaller scale," Francis said. "If we can become part of a larger organization, the cost we have to pass on a per patient basis can be dramatically improved."
Francis also anticipates long-term efforts to enhance community health and preventive medicine, which will be vital in the effort to meet national health care mandates.
Francis sees this increased alignment between OHSU and MCMC as a way to maintain independent, community-based care, while realizing many of the benefits of working with a larger health care organization.
"This is the best of both worlds," Francis said, "teaming with the only academic medical center in the state.
The two organizations have been working on this alignment behind the scenes for about a year. They announced it to their staff and physicians' group Monday as they prepare to enter the due diligence phase of the process. A completed alignment agreement is expected by the end of the year, Francis said.
Though MCMC will continue to be led locally, a representative of OHSU will be serving on the hospital board.